Strategy, Signage, Permanent, Temporary, Corrugated Display, In-Store Signage, Print Signage, In-Store Marketing, Consumer Behaviors
Old-School Marketing Techniques for Today's Covid-19 Weary Shoppers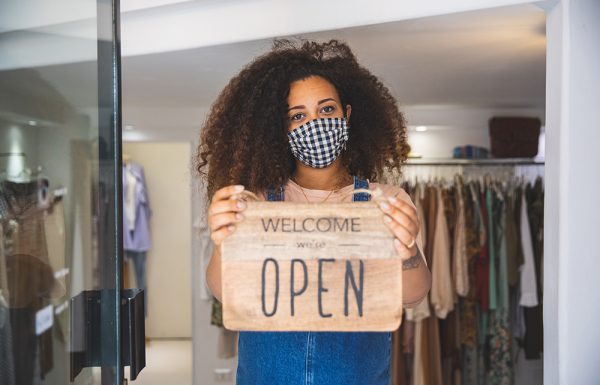 "At present we are in a period of massive disruption and it is not clear how shopping patterns will evolve…"
—Neil Saunders, GlobalData Retail Managing Director
While life certainly has been different over the past seven months thanks to Covid-19, we are all afloat together in an ever-shifting current of unpredictable change. It's ironic, though, how some points of this evolution recall the "what's old is new again" adage. Honing in on some of those established approaches might be the salve that connects your brand with skittish consumers—and helps pull you through to the other side of this pandemic.
Consider that American consumers in the early part of the 20th century relied on delivery services for things like milk, groceries and prescriptions. For some reason, those conveniences largely disappeared for decades. But the onset of the pandemic saw millennials and Gen Z consumers—as well as Gen X, baby boomers and the Greatest Generation—paying premiums for delivery of everything from alcohol to Band-Aids, thanks to businesses like Drizly, Amazon Prime and Instacart.
Another redux? Drive-in movie theaters. When it was impossible to sit in an air-conditioned multiplex, malls got creative and turned their parking lots into pop-up drive-ins. For older viewers, it was nostalgic. For the younger set, it was a cool, new experience.
The unrelenting pandemic has meant traditional retail has become more creative, responsive and flexible than ever before. But one thing that remains timeless is the consumer desire for human connection and interaction.
Drawing Them in—Directly
While sequestered at home, the consumer's primary connection with shopping has been online. And while their retinas are growing weary, their desire to interact in a physical way is beginning to supersede the immediacy of clicking a key.
Stores and brands should not underestimate the effect digital burnout can have on consumers. Of course, emails, texts and social media have their place. But according to McLean Hospital, a Harvard Medical School Affiliate, "The problem of digital burnout specifically refers to feelings of exhaustion, anxiety, depression, or diminished interest in a job stemming from too much time on digital devices. Physical signs include sleep disorders, decreased energy, and even chest pains." The pandemic has compounded the use of screens, whether for Zoom meetings, Facetiming, social media use or endless texting.
Remember the good 'ol days when you actually "felt" an advertisement? If you liked these tangible pieces of mail, apparently you are not alone. Research shows younger generations actually feel the same way and are receptive to advertisements via direct mail. Findings show that they trust it and associate it less with junk than they do email. These days, physical mail isn't typical for Gen Z'ers, so when they do receive it, it's both memorable and something they can hold on to (literally). And it's also shareable, having an average life span of 17 days, according to a U.S. SBA article.
All things considered, direct mail has its advantages over the digital world and is something worth exploring again for brands and retailers. Particularly, it is able to make an immediate and haptic impression on the recipient through a physical form—something that's been missing while our digital inboxes have grown larger and larger.
Once in-Store—Keep Them Informed, Engaged and Curious
Consumers are now so used to shopping online that the in-store experience can seem almost confusing. This was actually a quandary before the pandemic. Now, it's likely been exacerbated, especially if interiors have been changed to accommodate social distancing protocols. Retailers need to make sure in-store signage and displays are not only visible and easy to comprehend, but also expand on a customer's online experience. Bring your omnichannel retail platforms closer by making sure products are easy to find with aisle signage or clearly marked departments. Let your shopper know you've made changes because it may have been a while since they last visited. Give new releases some love with specialty signage that stands out—much like you may have done on your opening website page. But most of all, take advantage of reintroducing yourself to your shopper and make their return a new and memorable one.
"Necessity is the Mother of Invention" (…and Maybe the Mother of Quick Pivots)
Many businesses have found that they have needed to reinvent themselves very quickly. Take, for instance, Tilda, a tiny wine bar in LA which had only been open for six weeks before it had to shut down its dine-in service. In true entrepreneurial spirit, the owner transitioned the 450-square-foot space into a wine shop and reserved the courtyard out front for customer use. The shop also went beyond offering wine and beer to selling eggs, bread and fresh vegetables. Although customers couldn't shop in the small space, they could browse at displays by looking through the store's large windows. And if they wanted to order from the store, all they had to do was call it in. The staffer would also answer any questions and give advice, providing a more human connection. This unorthodox purchasing process was mapped out via a series of amusing and illustrative, hand-drawn signs that were posted in the store windows. Their signs walked customers through each step of the socially distanced process in an engaging and entertaining way, making the signs a part of their branding.
Tilda's owners replicated as closely as possible the true experience of shopping in person, in store.
"For many people just being able to talk to someone on the phone and be more or less in the same space with a stranger is an enjoyable experience and change to their everyday activity," said Christian Stayner, co-owner of Tilda. "We felt that it was really important to be a place within the community, rather than become just another faceless digital kitchen or e-retailer."
Promote Your Story and Your Offerings
Stores should also take advantage of signage that publicizes company details like a mission statement, as well as any sustainability or philanthropic initiatives. Such messages ensure the in-person customer has as rich an understanding of a company's brand identity as an online shopper. The two channels can be drawn even more closely together by incorporating QR and AR technology in your signage, providing your customers easy access to online content such as product reviews, special promotions or product demo's while they're shopping in store.
Telling your story means taking the opportunity to demonstrate the many facets of your offerings and communicating this out on multiple channels. Take Madison Reed, for example. As hair salons across the country were shut down, this salon and hair color subscription service experienced an 800% explosion in its e-commerce business during the first week of the pandemic, and a 1,000%-to–1,200% explosion in the following nine weeks. The DTC company sells affordable, salon-quality hair color for at-home use. Simultaneously, they've also been opening Madison Reed Color Bar locations across the U.S. Customers can come in for a consultation and either have services done in store, or they can take their color home and do their hair themselves.
With giving the consumer both a digital and physical world, Madison Reed has created an almost pandemic-proof business model, one that clearly illustrates how brick-and-mortar retail can seamlessly support e-commerce within the same brand, while still offering a differentiated experience.
Throughout our 60-year history in retail, Medallion Retail has seen how financial, political and technological change causes shifts in consumer behavior. We apply our historical and strategic expertise to our work in helping retailers and brands remain relevant and customer-focused in physical retail spaces during difficult times such as these. Contact Medallion's Chris Gordon @ 646.677.5618 to discuss how we can help your business.
Ready to connect to your customers in a more meaningful way?
CONTACT OUR TEAM