Strategy, Creativity, Permanent, Temporary, Corrugated Display, Pop-up Retail, Retail Marketing, In-Store Marketing, Retail Display, Consumer Behaviors
Retail with a Purpose: CS Hudson and Medallion Retail Team Up for Good
The holiday season may be over, but the glow remains for us as we think about the incredible experience of creating a pop-up for good—a pop-up that helped a community of children in need through the CS Hudson initiative, CS Hudson Pop-Ups for Good: Live. Love. Laugh. Imagine a place where over 100 children, ages 2 through 18, who have no homes and are living in a shelter, get their very own VIP event, including specially created tickets and a bus ride to a pop-up toy store made just for them.
Imagine that event—a special toy shop experience with keepsake shopping bags, held in a beautiful, safe place—a place designed to be warm and inviting for the holidays, full of charming imagery and happy, uplifting colors.
This is a place full of toys, where the children could choose a gift for themselves—and for some of them, possibly the only gift they'd receive that year. Imagine the faces: lit up with joy and surprise, faces looking up with excitement at snow falling from a giant, life-sized interactive snow globe. This is a place designed to bring them joy, laughter and love. In mid-December, this magical place came to life for what was, in the words of Joseph Scaretta, CS Hudson Co-CEO & Founder: "Such an exciting day! The smiles were enormous, and the laughter was plentiful. We helped to bring smiles, a sense of normalcy and a chance to 'be a kid' to the children of HELP Suffolk."
We at Medallion Retail are thrilled to be a part of the pop-up's creation, which we designed to be a fully immersive winter wonderland, created from an empty storefront donated by Tanger Outlets. We are so grateful to have had the opportunity to make a difference, and honored to have partnered with CS Hudson, along with CS Hudson's strategic partners FASTSIGNS of Upper Saddle River, Fire Up Marketing, Tanger Outlets, Monster XP and IRG Management to bring this pop-up to life.
"The Pop-Ups for Good initiative uses retail to give back to the community in ways that are filled with pure joy," said Scaretta. "In this case, the pop-up that Medallion Retail, CS Hudson and other partners created was a magical space for underprivileged children and teens to play, pick out cherished gifts and experience their own winter wonderland."
Here's a look behind the inspirations and creation, the unique audience and the design challenges we faced.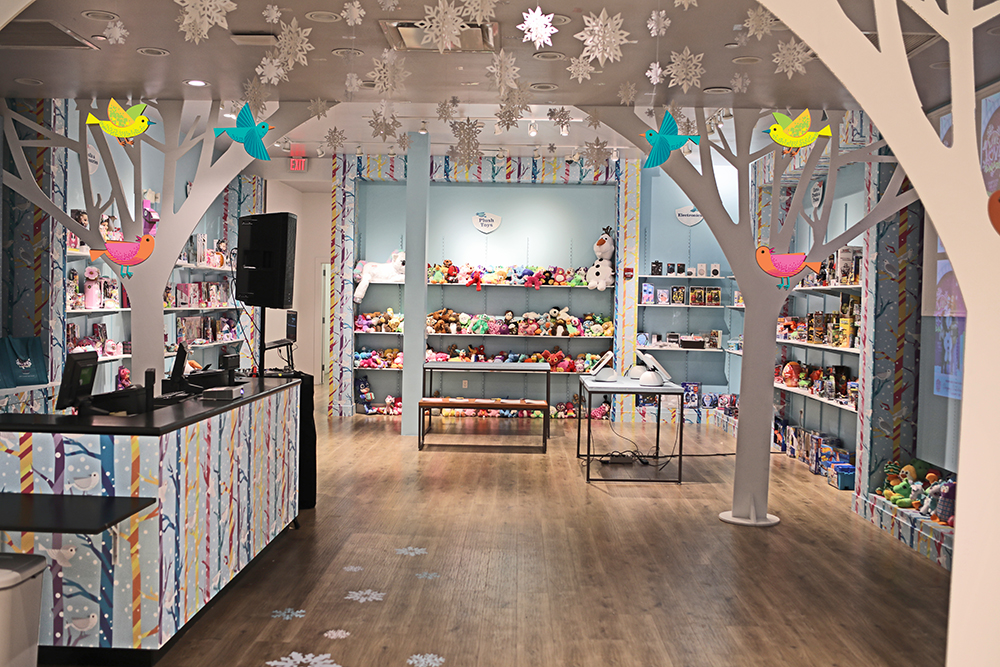 Building the theme
When we were given the chance to work with CS Hudson's Pop-Ups for Good—to build an immersive winter wonderland for the children and teens (who, from HELP Suffolk, took a special bus to the event at the Tanger Outlets in Riverhead, NY)—we knew we could create something truly extraordinary. First, we created a mood board of all of the possibilities the space could encompass. Candy cane forests, charming woodland birds, a life-sized, interactive snow globe and frosted flakes of snow were all elements we wanted to include to provide an immersive experience for children.
Our goal was to design a pop-up that was holiday agnostic, non gender-specific and as whimsically immersive and consistently branded as possible. This allowed us to develop a rich collection of themed art assets that we played through everything, from the logo and interior design, to the entrance tickets and shopping bags. Even the temporary tattoos applied at the festive tattoo station were branded.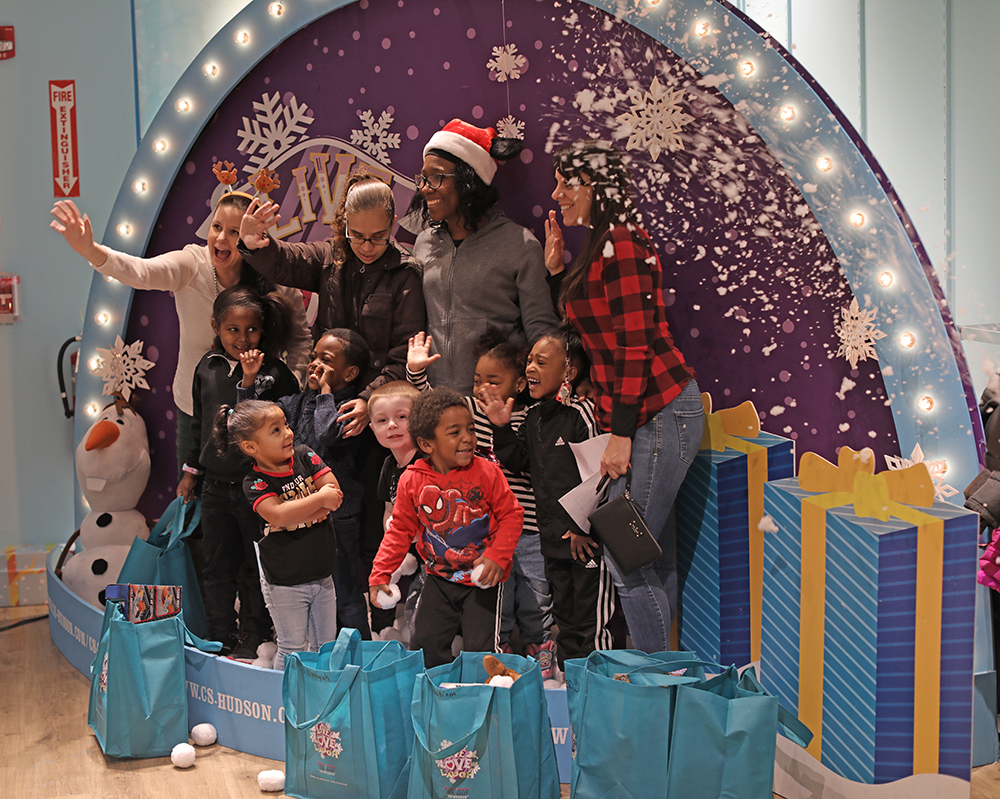 Engaging the audience
One of the unique challenges of creating the Live. Love. Laugh. pop-up was making a space that would appeal to children in the broad age range of 2 through 18.
It had to appeal equally to a toddler, tween and young adult. These age groups may be vastly different, but they all share a love of playing and experiencing the world around them—which they get through interactive elements like the temporary tattoo station and a life-sized Instagrammable snow globe filled with faux falling snow and snowballs.
Another requirement was that this pop-up had to be not specific to any holiday culture and would provide a celebratory space regardless of a child's individual religion or traditions. We created a cool-toned color palette filled with purple, ice blue, hot pink and orange, and neon green to capture the festive playfulness.
When we created this space that needed to appeal to a wide span of ages and demographics, we asked ourselves what the unifying feature was. How could we create engagement at every level? The answers helped us build experiences that could surprise and delight our entire audience.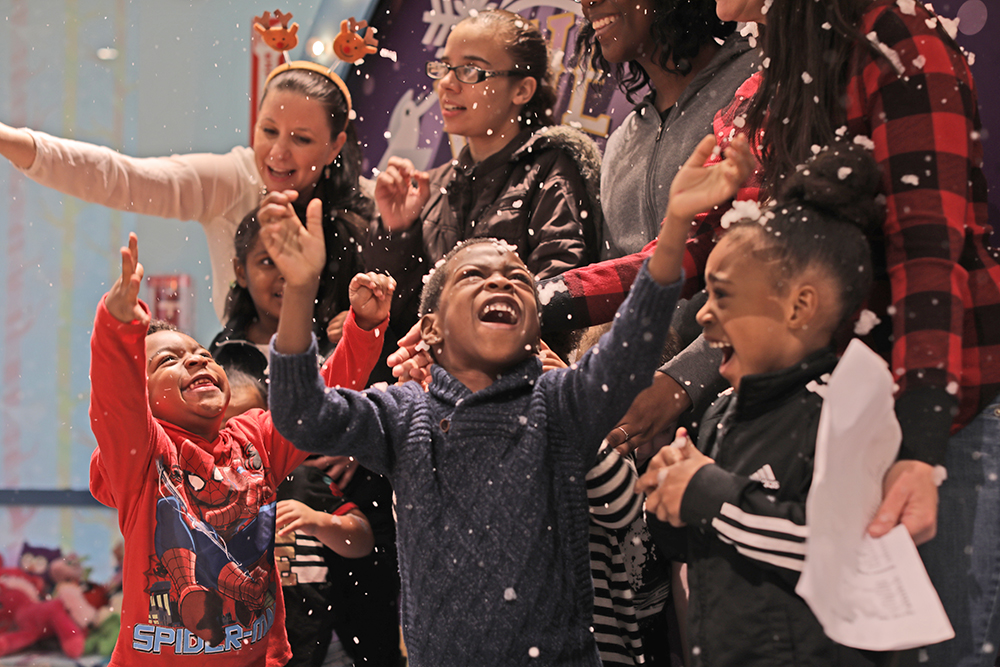 Navigating narrow constraints
With any pop-up, the parameters are much different than with a permanent retail location. The idea for this pop-up was concepted and designed in just two weeks in order to be fabricated on time—a much shorter lead time than we'd have for a seasonal or permanent retail display. With our strategy and ability to capture CS Hudson's vision the first time around, we were able to bring these elements to fruition quickly.
A smaller pop-up location also means every foot of space is at a premium, requiring more drama with less "ingredients." That said, there's also a certain amount of freedom created when your displays and props don't need to last. Pop-ups are not an investment in longevity so much as an investment in impact. And in this case, that impact was to drive awareness for the cause, to give joy and delight to children in need, and to give back to the community. Though only in existence for three days, this pop-up experience will hopefully resonate on a much larger scale, and for a much longer time.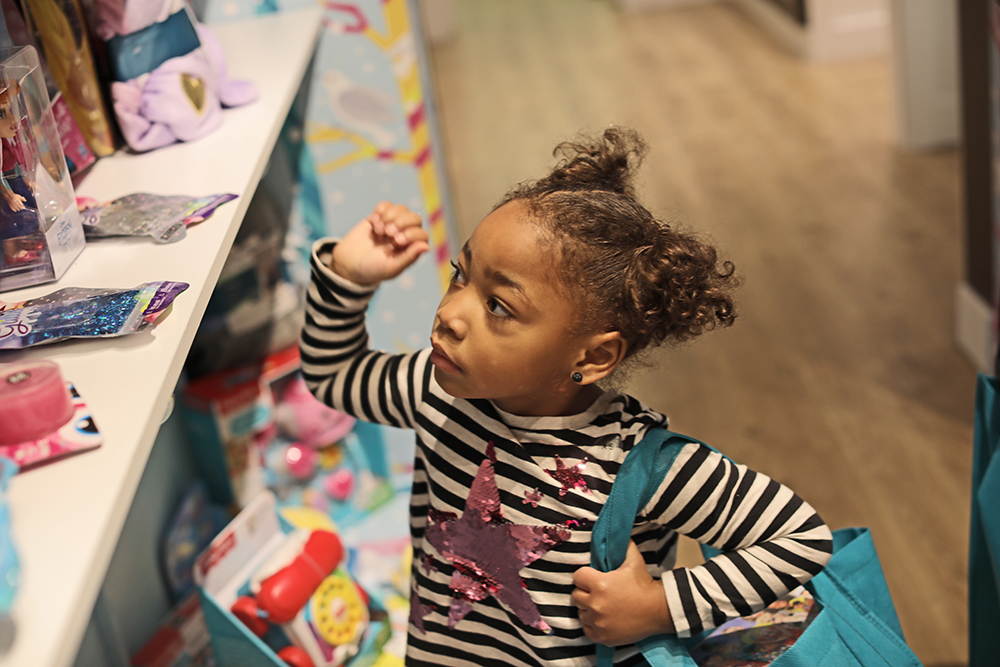 Giving retail a purpose
[bctt tweet="Medallion Retail is thankful to be a partner with CS Hudson Pop-Ups for Good. This initiative is just one example of how retailers can use their brand and platforms beyond traditional marketing—to give back and create good." username="medallionretail"]
Whether you're executing a full-scale pop-up, a store within a store or a retail display, you can infuse purpose into the experience.
● Craft an environment with universal appeal to your audience
● Push creativity to a new level with interactive elements
● Create emotional, memorable moments with imagery, iconography, colors and textures
Medallion Retail is a pioneer in out-of-the-box pop-ups and retail display. For more than 50 years, Medallion Retail has helped brands deliver impact on and off the shelves. Reach out to Chris at engage@medallionretail.com to see how you can work with us to create something special.
Ready to connect to your customers in a more meaningful way?
CONTACT OUR TEAM