Permanent, Temporary, Corrugated Display, Retail Trends, Retail Marketing, Consumer Behaviors
2023: 4 Trends That Are Here to Stay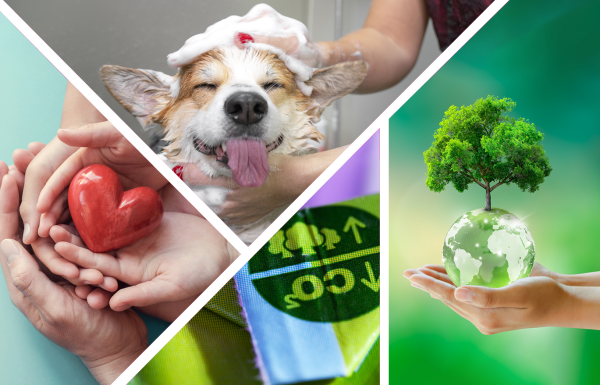 Given all that the U.S. population has experienced over the past two years, the present state of the economy and the unstable world markets affecting all of the above, one thing is for certain…nothing is for certain.
But while markets are nervous and apprehensive to put both effort and money behind such unpredictability, it is clear to many that standing still is not the answer. And that adversity, not just necessity, can be the mother of invention.
Much of what we have seen in terms of change hasn't been affected solely by economic drivers but also attitudinal ones. As U.S. consumer demographics shift, so do priorities in buying habits – moving some consumers from passive brand loyalists to assertive and demanding brand activists. And nowhere is this more evidenced than in how brands, CPG and retailers are responding, not just in what they sell, but how and where they sell it.
We've seen continued innovation by brands seeking to align with consumer values and tapping into such things as time (which is currency), convenience, environmental stewardship, health and wellness.
Using this as our backdrop, we'll run down four trends that gained a firm and progressive foothold in 2022 and look to be poised for further growth and innovation in 2023 and beyond.
TREND #1: ENVIRONMENTAL STEWARDSHIP
Recycling becomes a loyalty program & CPG leans toward plastic-less
According to 2022 research by The IBM Institute for Business Value, 51% of respondents in a global survey said "environmental sustainability is more important to them today than it was 12 months ago." And "49% of those surveyed said they've paid a premium for products branded as sustainable or socially responsible in the last 12 months."
A recent article from ProgressiveGrocer.com cited a new NielsenIQ revealing that 76% of global consumers are "calling for companies to take steps to reduce their environmental footprint and virtually the same number (77%) said they would stop buying products from a company deemed to be 'greenwashing' its efforts by not following through with pledges to make quantifiable changes or making misleading claims of progress."
There's no doubt that environmental stewardship has moved from being a trend, to being something that has become a part of the modern-day consumer's expectations when considering where they shop, what brands they shop and what they shop for.
So, is this a new 'thing'?
Actually, no.
Many of us can easily rattle off a list of companies that started the environmental conservationist movement back in the 80s, like Patagonia, Tom's of Maine, The Body Shop. But unlike the shoulder pads of the era (that seemed to grow bigger every time an episode of Dallas aired), this was a "fad" that would not soon fizzle out. In fact, it has become the cornerstone of many brands and retailers who now pledge that their businesses and products will endeavor to work towards a cleaner Earth.
Some undertakings are massive, like Levi's Water<Less Initiative, or Allbirds Flight Plan, which encompasses ten of the most ambitious, science-based sustainability targets in the footwear and apparel industry (not to mention continuing to make their shoes out of sustainable and environmentally friendly materials).
And then there's CPG, where environment-friendly innovations seem to be showing up almost on a daily basis. All of which is certainly stirring the imagination on ways to involve and incentivize consumers to join in, while also establishing an 'Earth-friendly first' persona and mission statement. Marketing ploys for sure, but many brands are realizing these efforts not only inspire brand loyalty but can also attract and help grow a new base for a brand.
One of the areas that got its start in the early 70s centers around environmental stewardship and recycling. This activity has begun to see a revival in recent years in terms of removing the effort behind becoming an advocate of the cause. And as a call-to-arms by consumers demanding brands and CPG companies align with their environmental values (in exchange for their business and their loyalty), many companies are now stepping up their game to demonstrate that they are responsible stewards of this planet and finding ways to make their brand synonymous with sustainability and eco-friendly business practices.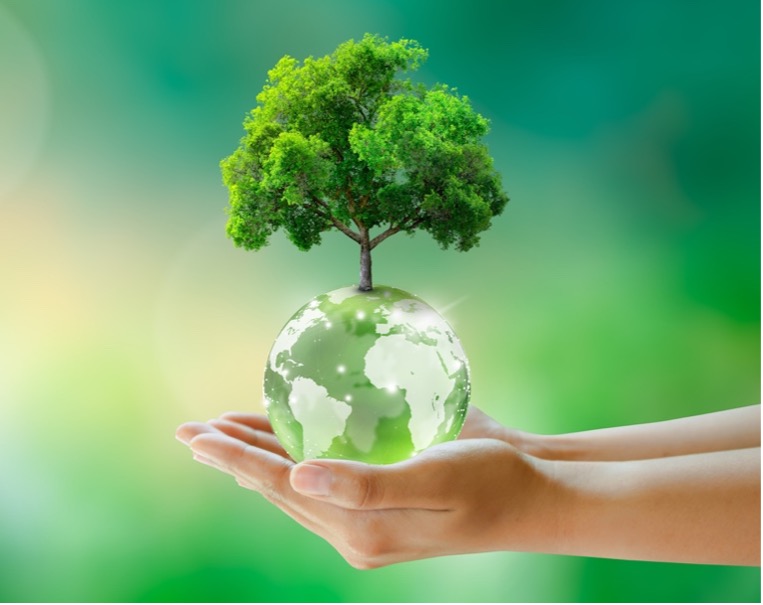 Recycling efforts and rewards in-store
Recycling efforts have long since been a stationary item at grocery stores and supermarkets. Who hasn't seen and used the plastics and recycling machines located at the entrance to most large grocers, that reward shoppers for their participation with deposit monies on their recyclable containers.
But now, recycling is moving in-store, and involving CPG brands and products that weren't typically part of recycling programs like Clorox, Cascade, Crest, Gillette, Glad, Häagen-Dazs, Kraft Heinz, Mars Wrigley, Nivea, Nutella, Oral-B, Pampers, Tide, Tropicana and Nature's Path.
Products leveraging the Loop circular reuse platform, developed by waste management firm TerraCycle, come in refillable glass or metal containers and are placed in branded displays at participating Giant stores. After shoppers use the products, they return the empty packaging to Loop Return Point collection bins located at the store. Loop then retrieves the containers for cleaning, refilling and reuse in future purchases. And reimbursement to the consumer is done through an app.
For brands, this can represent a whole lot of new consumers now seeking them out (because they're a part of the reusable container program). For grocery stores like Kroger, Giant and now pharmacy stores like Walgreens, this helps builds loyalty and repeat purchasing.
For the shopper, it makes it easier to participate in recycling (something that many want to do) and to also receive their reimbursements frictionlessly.
In noting how quickly many brands and stores have jumped on this type of program, and now pairing this with an app, we see immense potential for increasing incentives for repeat business by consumers – discounts and/or store rewards, or coupon offerings to the consumer – further reinforcing a win-win scenario between the brand and the environmentally conscious consumer.
TREND #2: CPG ECO-FRIENDLY PACKAGING AND SUBSTRATES
As much as consumers are concerned about recycling, and where and how their refuse is being deposited, they also equally care about how the items they are choosing to purchase are packaged. And they're actively demonstrating this with their wallets and loyalties.
A recent 2022 Sustainability Research Study shows that when choosing a product or brand, 60% of consumers consider packaging materials in their purchase decisions. Further validating this, the research showed that packaging that is recyclable and minimal are top influences when consumers look to purchase a food or beverage. Consumers surveyed rated the level of importance as follows:
46% Recyclable packaging
36% Minimal packaging
26% Compostable packaging
But it's not just within the food and beverage category that you see changes taking hold.
Though many industries are responsible for the onslaught of pollution, beauty in particular has been a major culprit: it generates 120 billion units of packaging each year, and around 95% of it gets thrown out after one use.
All valid reasons for all consumer product brands to make it their mission to find ways to reduce waste and rethink packaging. Which they are. And we don't see that slowing down any time soon.
We wrote about this at length in 2021, specifically about the use of environmentally friendly packaging as well as advancements in the use of biodegradable microbeads in cleansers and cosmetics, and innovations around materials (paper and building materials) using mycelium.
And the adoption of these environmentally progressive practices have found their way into the mission statements of many legacy global brands.
Nestlé has committed to 100% recyclable or reusable packaging by 2025 and will reduce the use of virgin plastics by one third by 2025.
By 2025, PepsiCo strives to design 100% of packaging to be recyclable, compostable or biodegradable and reduce virgin plastic use across its beverage portfolio by 35%.
Kraft Heinz supports a circular economy and aims to make 100% of its packaging globally recyclable, reusable or compostable by 2025.
Molson Coors pledged to attain 100% reusable, recyclable, compostable or biodegradable packaging by 2025.
But the push in environmental stewardship isn't something independently driven by large corporations such as these. It's the smaller, independent brands that are often the innovators, the champions behind these ideas, generating new and loyal customers as a result. And their outside-the-box (almost literally) thinking has continued to influence CPG companies big and small.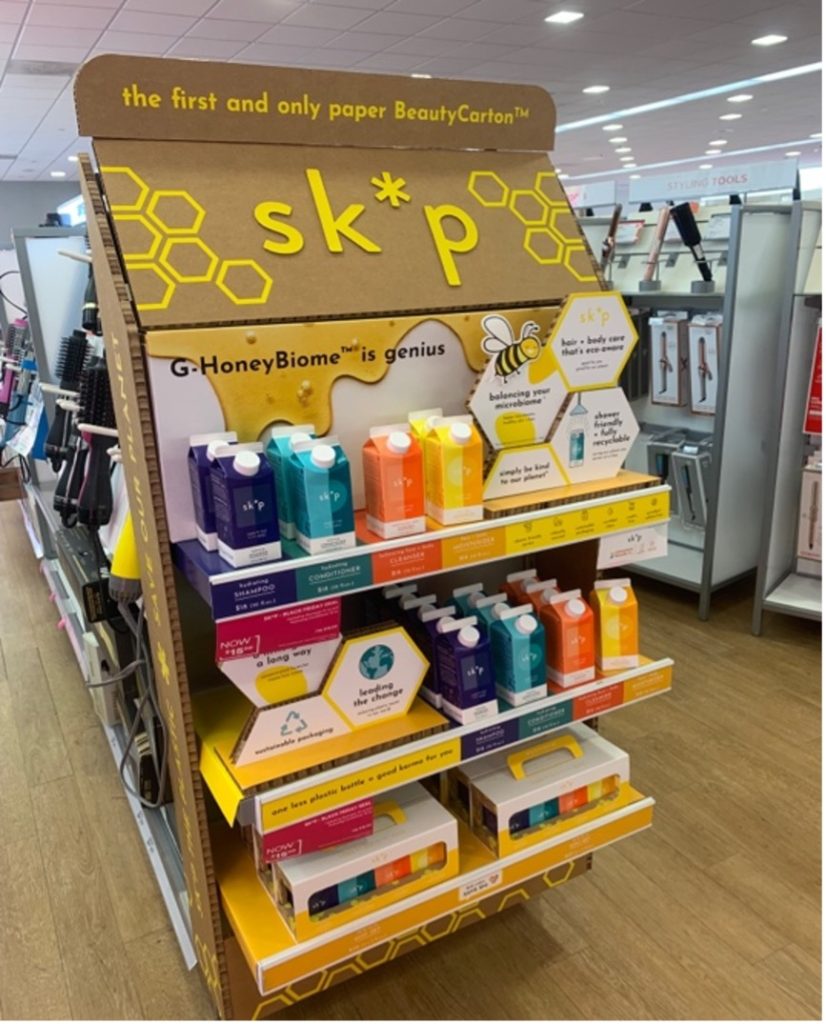 Ideas and approaches to sustainable and environmentally responsible packaging are being explored and introduced by many emerging brands who have seen the value in addressing consumer desire to shop brands and companies that share their own ecological values. Here's just a very small sampling.
Sk*p – Once you get past the question as to what the asterisk represents, you'll find Sk*p more than just an environmentally friendly company, one that really sees their mission all the way through – from the ingredients used in their shampoos, deodorants and body washes that resource local bee farms, to the product packaging that is meant for recycling, printed with natural inks on paper fibers that are meant to be recovered and reused for such things as furniture, wall linings and form work for concrete. Paper fibers can be recycled up to seven times before they fully break down.
The Earthling Co.– The Earthling Co. offers low-waste personal care products, claiming to have helped divert 1.7 million plastic bottles from landfills and our oceans by offering plastic-free, solid-form shampoos and conditioning bars. All of their packaging is recyclable and/or compostable. One example is the unbleached, 100% recycled brown kraft paper for their shampoo and conditioner bars, a sturdy yet lightweight material that has a smaller shipping carbon footprint. They also utilize aluminum and glass for other product packaging. In addition, all their shipping materials are 100% recyclable and/or compostable.
Alter Eco– Alter Eco is a chocolate company based in San Francisco, CA, that launched the world's first compostable wrappers for their chocolate truffles in 2013 as well as a compostable stand-up pouch for their quinoa products in 2016. Fun fact: the truffle wrappers and pouch are made from eucalyptus and birch with non-toxic ink, and the pouches have another layer made of non-GMO corn. Their chocolate bars are also wrapped in recyclable aluminum foil and FSC-certified paper.
Kencko– Say hello to cornstarch, the renewable resource behind the film of the compostable and plant-based instant smoothie packets from B Corp company Kencko. Besides the inner packaging, Kencko also makes their inner box from sugar fiber (compostable or recyclable) and their outer mailing boxes, postcards and leaflets from 100% recycled paper, so no new trees are cut down to make the packaging.
Earth Breeze – Checking off several boxes in the Earth-friendly category, Earth Breeze's products help reduce single-use plastics in products like plastic laundry detergent containers. Even their packaging is eco-friendly. Earth Breeze packages with 100% biodegradable cardboard and ink. This means their packaging will biodegrade in about three months, depending on the environment.
Though recycling efforts will continue to be something consumers hold important and will want to participate in (if retailers and brands continue to make it easy and financially beneficially to do so), the fact is, recycling does have its challenges. The process of collecting, sorting, transporting and reprocessing plastic waste is exorbitantly expensive. A better alternative would be the adoption of compostable packaging, which solves some of the challenges posed by recycling, and complies both with consumer and government demands for sustainable packaging.
Given the growing interest in finding alternative ways to reduce plastic into our ecosystems, we see the promise of alternative, biodegradable and compostable packaging continuing to grow, soon becoming a standard and expected offering in CPG in 2023 and beyond.
And Mother Nature says, "Thank you!!"
TREND # 3: TIME & CONVENIENCE = CURRENCY
Another growing trend that we see gaining even more significant ground in the year ahead is the combining of services into standing retail.
With the nation's average price per gallon of gas inching its way up to $5 or more in 2022, it became quickly evident that consumers saw value in limiting the number of places they needed to visit to complete their shopping lists.
While malls showed a general decline in popularity, even before the pandemic hit, the idea of having stores and consumer services in central areas was and remains something the public desires, albeit now for additional economic reasons.
And you may have heard the claim that time is currency? No truer words spoken, especially when you are a family with needs ranging anywhere from back-to-school shopping to dentist visits. So, turning the grocery shopping trip into one that checks off multiple items on the to-do list is a win-win scenario for both the consumer and retailer. And often, it's the cause of repeat business and growth in retail loyalty programs.
Take, for instance, the pet care industry.
Morgan Stanley predicts an 8% compound annual growth rate for the industry by 2030, which is one of the largest rates of return in any retail segment. And it isn't just pet food that's driving this growth. It's also pet care.
Pay a visit to your veterinarian and yes, after attending to your pet's medical needs, they'll recommend a certain brand of food, vitamins or shampoo for your furry, feathered or finned child. But what happens when that veterinarian's office is right in the middle of a Petco store? Well, you've just reduced your shopping list and saved miles on your tank. Not to mention time.
And Petco hasn't stopped there, now becoming the pet care provider extraordinaire and adding to their offers a whole host of other necessary pet services like:
Boarding – Overnight pet care in the comfort of a sitter's home
House sitting – Overnight pet care or house-sitting services at the pet's home
Dog walking – A walk around the pet's neighborhood
Doggy daycare – Daytime pet care in the pet sitter's home
Drop-in visits – For potty breaks, quick play dates and litter box cleaning for cats
Dog training – Need we say more?
All offered in one-stop shopping and under one roof. Something guaranteed to make you a Petco loyalist. Because really…who else has these services for their customers?
And pet care isn't the only industry seeing growth and success in consumer services.
A very short while ago, a healthcare check-in at a Walgreens or CVS meant picking up your prescription and maybe, while waiting in line, sticking your arm into the cuff of a free blood pressure reader.
But now? This otherwise mundane visit has become more of a health and wellness experience, dispensing not just your prescription but also services often reserved for medical offices.
Things like in-store clinics and vaccination sites have become somewhat standardized programs that pharmacy chains have invested in. But, as access to healthcare remains a challenge for many within the U.S., and our population continues to age out (according to the U.S. Census Bureau, starting in 2030, when all boomers will be older than 65, older Americans will make up 21 percent of the population, up from 15 percent today), building a frictionless pathway to healthcare services in a retail setting will not only ensure brand relevance in the coming decade, but will build trust and grow loyalty for these brands.
Even nontraditional pharmacy retailers are getting in on this services game, with some, like Walmart, offering consumer services not just anchored in health and wellness but also in financial health and wellness.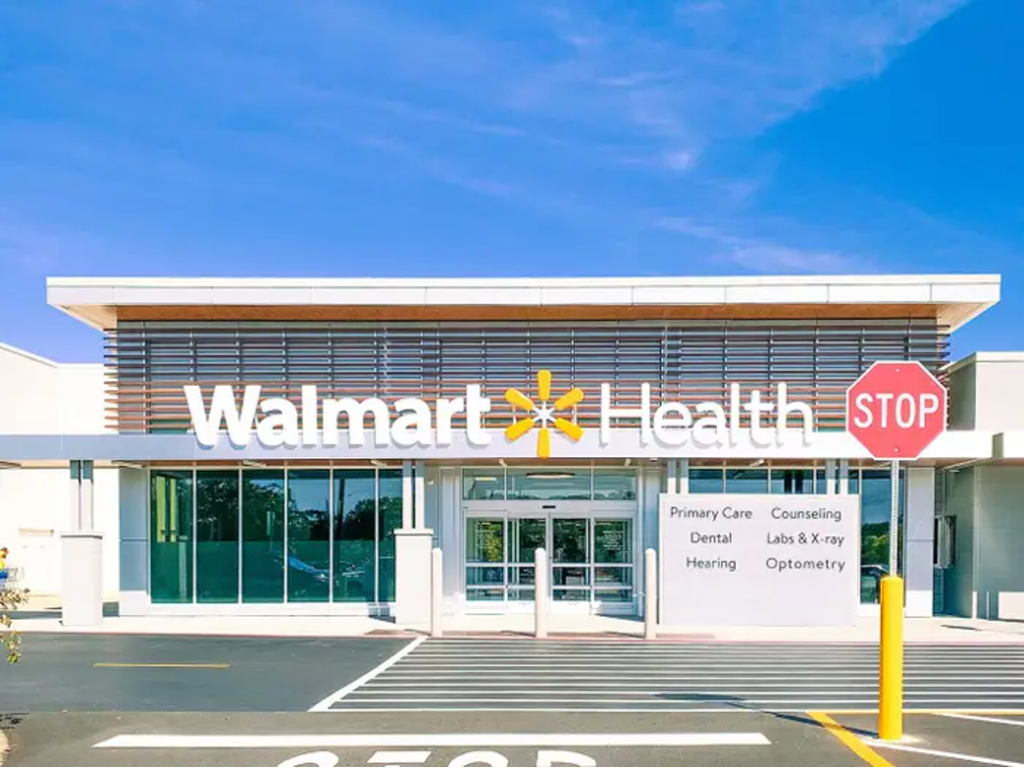 Earlier in 2022 Walmart opened five new clinics in northern and central Florida. Each health center is adjacent to a Walmart retail location.
These centers offer a range of primary care medical services, including:
Physicals
Injury care
Immunizations
Radiology
Care for chronic health conditions.
Walmart also offers in-store lab testing in partnership with Quest Diagnostics and works with insurer Humana to sell Medicare drug plans.
In financial services, it provides prepaid cards in partnership with Green Dot, money transfer services through MoneyGram and tax services through Jackson Hewitt.
In a recent 2022 survey by Tango, a leader in store lifecycle management, it was noted that shoppers want more innovation in their brick-and-mortar retail shopping experience. "Over four in five (83%) say stores still need to become more innovative in how they utilize their retail space for in-store shopping, order fulfillment and pick-up."
When the pandemic hit and consumers wanted to avoid physical retail, BOPIS took on a whole new meaning and purpose and helped to make an easy transition to curbside pickup. When stores initiated self-checkout to ease shopper lines, this provided a perfect segue to the next natural step, a scan-and-go experience. Consumers adjusted, adapted and eventually learned the value of these programs in saving them both time and effort. As a result, many of these services have now found a permanent place in brick-and-mortar retail offerings – something that consumers plan to continue to seek out and use post-COVID-19.
But it's not just the typical "services" that you might find in-store, like the ear piercing at Claire's which has been around forever. Or the DIY workshops that The Home Depot has made a staple of its brand offerings. It's also providing the kind of mundane services that helps consumers minimize all the running around they have to do during a short weekend.
Like what DSW recently did by adding shoe repair services at 500 of their locations. Once a very easily found business on Main Street, shoe cobblers have all but become a scarcity in local communities as our society became all about disposable apparel. But there remains a need, especially for those who have invested more than a few bucks in some expensive designer feet whips. And cobblers also repair handbags, another difficult resource to find.
If retailers and brands can remove the friction, make shopping a convenience, even when it's the weekly food shopping excursion, and find ways to incorporate additional consumer services in their shopping experience, they will grow an even broader and more loyal base of customers.
We see the enfolding of consumer services into the retail in-store shopping experience as something retailers and brands will continue to invest in and grow in the year ahead.
Trend #4: Health & Wellness
According to Statista, "the size of the wellness market worldwide stood at 4.37 trillion U.S. dollars in 2020. This figure is projected to grow to almost seven trillion U.S. dollars by 2025."
If the events over the past two-plus years have proven anything, it's that being healthy and staying healthy is no longer fashionable. Now, it's a mission. And that mission continues to be the driver of many new innovations that enable consumers to remain the masters of their own health and wellness destinies.
We touched on the subject of health and wellness back in 2021, noting that this "trend" was moving from something people focused on once a year in their New Year's resolutions to something that has become more of a permanent lifestyle choice. We projected that the trend and focus would continue to grow, in many different ways. And we were right.
From what we're consuming to what we're sleeping on (and even how we get to sleep), the focus continues to be on finding empowerment in being healthy, happy and balanced. And decidedly not choosing only a pill prescribed by a physician to address our needs.
While there were countless new product launches around health and wellness in 2022, all of which have taken unique and innovative approaches to address a host of health objectives, we see an even more concentrated and ongoing effort around specific products aimed not only at happiness but also quality of life and balance. In their 2022 research, McKinsey & Company note "the growth of consumer interest in health and wellness, with persistent gaps in certain areas presenting exciting opportunities for companies to serve unmet consumer needs." And we project that the gaps will continue to get filled.
In their research, McKinsey highlighted six wellness dimensions:
Health: over-the-counter medicine, vitamins and personal hygiene
Fitness: fitness clubs, studios, at-home fitness equipment and fitness wearables
Nutrition: diet programs, subscription food services, nutrition apps and juice cleanses
Appearance: skin care, dermo-cosmetics, hair care and salon services
Mindfulness: counseling or therapy, meditation studios and mindfulness app
Sleep: sleep supplements, app-enabled sleep trackers and other sleep-enhancing products
While we see growth and innovation continuing in all six dimensions, a handful have the capacity to accelerate even more in the coming year, with the help of alternate, homeopathic/natural approaches and remedies. As the public at large is seeking a better, more balanced life, there's a desire and willingness on their part to change some habits that, while enjoyable, have been counterproductive to that mission.
One is consuming alcohol.
Whether it's movements like Sober Curious or commitments to 'Dry January', many are resolving to make lifestyle changes and prioritizing their pandemic-formed preferences without compromise. As a result, this has opened up the doors to a slew of new product innovations in CPG that promise to not only promote physical health but also mental health. Giving consumers multiple options to de-stress, remain mindful, sleep better and socialize responsibly.
While NA products continue as a choice for many, the market for euphoric, apoptogenic beverages has in recent years taken off. Such drinks might include CBD, adaptogens (substances used in Ayurvedic and traditional Chinese medicine to combat stress), or nootropics (substances designed to enhance brain function). But overall, these beverages, tinctures and powders bring with them the ability to find calmness and balance, or energy and stamina, when you need it, without sacrificing sobriety or drowning you in a vat of caffeine.
Up-and-coming brands like Aplós, a hemp-infused non-alcoholic spirit, or Apothékary, a plant-based "farmacy" that creates tinctures and powder products that can be supplemented for alcohol and caffeine, represent a new age of "functional" elixirs, beverages and supplements that can perfectly address individual health needs and fit into any lifestyle.
And as more beverage companies look to CBD, the "functional" category takes on even more promise to give alcohol in any form a run for its money.
According to NielsenIQ's CBD beverage data, sales of CBD beverages in the U.S. this past year reached $19.0 million. Although it's still a relatively niche segment, sales have increased by 42.2% when compared to one year before, outpacing total beverage sales, which are up by 21.9%. The market is growing quickly, as sales were at $13.4 million a year ago and $9.2 million two years ago.
While some would note further expansion and use of CBD in consumer products like non-alcoholic beverages has slowed of recent, it's certainly not due to the lack of public interest. Instead, what's bogging things down are regulatory issues, mostly under the FDA, which have posed numerous obstacles for this industry. While CBD-infused products seem to be emerging everywhere these days, it's still relatively new and laws surrounding its use in consumer products need to catch up, or in some cases be written from scratch.
Nevertheless, it's our opinion that the interest of consumers in products such as these (especially given the aging out of the population) and the money-generating potential of "functional" beverages, with or without CBD, will drive new investments, R&D and eventually product availability at retail. And we expect to see rapid growth and further innovation in this category over the next two to three years.
---
Over the past 60 + years Medallion Retail has made many predictions a reality for our clients. Whether it's rolling out a product launch at retail, or helping to design sales-generating signage and displays, we know retail, inside and out.
Want to get to know us better? Come see the magic we produce for our clients. And if you're interested to speaking to us about turning your brand into a rockstar at retail, give Chris Gordon a call at 646.677.5618.
Ready to connect to your customers in a more meaningful way?
CONTACT OUR TEAM