Strategy, Signage, Permanent, Temporary, Corrugated Display, In-Store Signage, Print Signage, Retail Marketing, Consumer Behaviors
5 Reasons In-Store Signage Is More Important Than Ever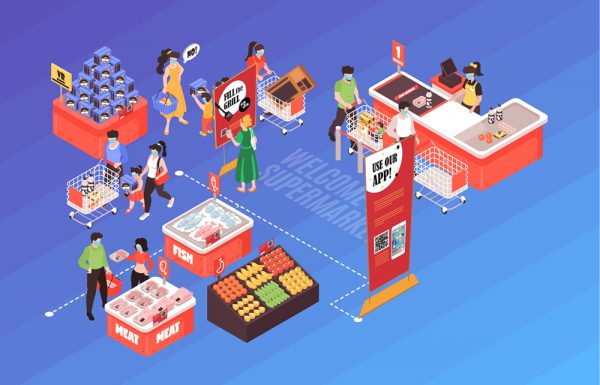 The best brick-and-mortar stores have always prided themselves on giving consumers reasons to return. From store design and layout to product selection and customer service, it's been about creating an experience that surprises and delights enough to drive return visits. But the COVID-19 pandemic has left shoppers uncertain about where they can stand, what they can touch and, deep down, who they can trust.
With social distancing and potentially fewer staff on the selling floor, smart retailers are turning to in-store signage to act as their "silent salesperson." Not only can it inform shoppers about safety protocols or offerings like curbside pickup, but it can also engage with fun and entertaining marketing campaigns, and help consumers feel comfortable enough to make purchases, as well as buy cross-sells. From big-box stores to grocery chains, in-store signage has become front and center as a retail strategy to connect with consumers. And today's shoppers include the well-informed, the showroomers, the bargain hunters the and customers on a mission, according to VendHQ, making savvy marketing all the more important.
As stores and shoppers continue to deal with the coronavirus fallout, Medallion Retail has identified five points where retail signage can help merchants connect with consumers who are feeling vulnerable, yet still searching for the types of haptic experiences they knew pre-coronavirus.
1. Help Shoppers Find What They're Looking for But Also What They Didn't Know They Needed.
Shoppers don't like change in a store layout. Whether it's shifting product around—like bringing antibacterial wipes and cleaners to the front of the store—or pushing overstocked merchandise from earlier in the year to a higher trafficked area, they find change in a store annoying. Being creatures of habit, customers don't like hunting for pasta that used to be near the tomato sauce.
Signage can help alleviate some of that stress and annoyance by informing shoppers of the changes in layout, and telling them where to look for relocated items.
These days, there are also plenty of shoppers who are anxious about even entering a retail environment, whether it's a grocery store or home improvement center. To ease anxiety they might have over quickly finding components for a home-cooked dinner for two or a household DIY project, signage can provide useful ideas and suggestions along with add-ins not originally contemplated. Placed adjacent to other popular products, signage gives shoppers an immediate reference to items that may not have originally even been on their shopping list.
2. Demonstrate What the Packaging Doesn't.
Many shoppers are still antsy about touching things in store. In this case, signage provides explanations or can demonstrate a product's attributes, uses, benefits, etc. Signage can also motivate the shopper to explore more and linger longer. In-store apps connect the browsing consumer with their sought-after product, but then they may have to sift through online inventory to find it. A faster and easier solution might be QR codes used in signage or shelf talkers. This approach can quickly afford the shopper with immediate education on the product without having to search for, touch or remove the product from the shelf.
QR codes would be a boon to beauty stores like Sephora and Ulta, where tester products are off limits, and field trainers and makeup artists are suspended for now. Instead, both retailers are using virtual makeup artists to help shoppers choose the right product for their skin type. QR codes could also connect shoppers to retail marketing campaigns or videos that explain various products and what they do, helping to take the sting out of the ban on actually trying them in store.
3. Promote Both In Store and Online
Store closures helped consumers become more comfortable with online ordering. Retailers should nurture this purchasing channel, especially since some shoppers may have never seen a reason to shop online prior to COVID-19.
Grocery stores stand to see the biggest transformation if digital orders continue to expand. In an article in Retail Dive, Tom Custer, vice president with FRCH Nelson, the Cincinnati-based architectural and design firm, says he envisions grocery stores with expanded backrooms for assembling same-day orders, as well as automation for when order volume is high. He also sees grocers adding high-volume, drive-thru pickup areas, as well as lockers and automated pickup towers where consumers can collect their ecommerce orders. Custer sees that "more grocers may be adopting a hybrid store model that combines an elevated in-person experience with enhanced online fulfillment capabilities."
As backrooms enlarge and buy online/pick up in store (BOPIS) continues to grow, brand/product selection may be defined purely by SKU demand. This means the selling floor may shrink. But in-store signage could allow consumers to order what they want through online inventory, as well as provide links to help them easily start the process.
4. Quickly Pivot Your Offerings
The "silent salesperson," aka signage, is not only meant for retail. Just as many stores were closed during the height of the pandemic, so too were dine-in restaurants. As these establishments begin to reopen, a "silent salesperson" can actually stand in for those menus posted in restaurant windows, as well as tableside.
Medallion Retail recently wrote about how signage can both quell shopper anxiety regarding COVID-19 safety measures and serve as a marketing platform to connect with consumers in retail stores as well as restaurants. As states are reopening, there's been an increase in pedestrian and street traffic. Dining establishments can take advantage of this by using digital screens in their windows that present the menus offered throughout the day. This gives foodies the option of eating on the spot or making a later reservation simply by scanning the signage.
Since germs are such a concern for so many right now, restaurants and bars might also consider eschewing menus and instead placing a table topper with a menu QR code on each table. When diners scan the code with their smartphones, the menu will pop up on their screen, providing a touch-free experience for them while they order.
5. Surprise. Delight. Entertain. Reward.
In-store signage is generally meant to connect retailers and brands with customers, yet these shoppers often have family in tow. Even though shoppers might not dwell as long as they did pre-pandemic, these tagalongs have been disrupting shopping trips for generations of parents. However, signage that sports downloadable QR codes can give family members something to interact with while others shop. In-store signage provides the perfect platform for scannable games, contests, and scavenger hunts that can reward players at checkout or incentivize a return visit in the future. Medallion Retail recently discussed QR codes that would appeal to and engage March Madness fans through games and contests.
Medallion Retail considers QR codes a win-win for merchants both large and small because it promotes brands while providing data on how many people keyed into it. It helps restaurateurs as much as retailers who can discover why shoppers looked at signage with a QR code versus a one-dimensional print. Businesses who use these codes are going to spend less on their advertising, know more about their customer and then have the ability to provide multiple choices for ads in one code.
Whether to calm the fears of consumers or help sell product where it might otherwise be lost in the fray, signage is truly coming of age as a silent salesperson.
Ready to connect to your customers in a more meaningful way?
CONTACT OUR TEAM