Strategy, Social Media Integration, Pop-up Retail, Retail Marketing, In-Store Marketing, Consumer Behaviors, Case Studies
The Intersection of Media and Merchandise: The "As Seen on TV" Pop-Up Strategy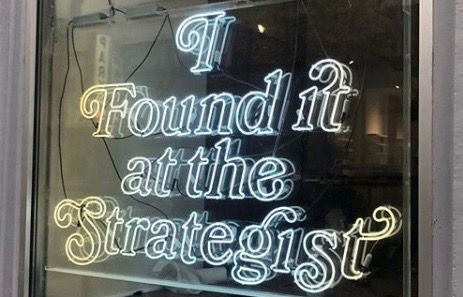 Media has always been intertwined with retail. Media and merchandise. From the full-page ads in print newspapers and magazines to the product placements on daily news shows, the consumer has always been shown advertisements in conjunction with media.
But the way consumers digest news is changing, and so is advertising. CMOs are shaking up their ad spend and putting dollars into different mediums.
As a result, we're seeing new waves of media publications commoditizing merch. BuzzFeed has a new line of Goodful products, Good Housekeeping has a lab in the Mall of America, and most recently, New York Magazine is hosting a holiday pop-up.
This strategy is both unique and rooted in traditional retail. When consumers make purchases, they want to make sure they get the best deal for the best products. To do so, they rely on recommendations and advice. They do their due diligence and figure out the car with the best MPG, or the TV with the crystal-clear HD.
That's the beauty of review-based publications like the Strategist, BuzzFeed and Consumer Reports. The 100 best pens, 24 hilarious gag gifts, the best mattresses of 2018 – you can get a list for everything.
The benefit of these listicles is that they put every option front and center and inspire consumers to discover products they may have never considered needing before. A breakfast sandwich maker for $19? How did I ever live without one?
But the hindrance here is that the consumer who is bombarded with these product options may be interested but doesn't click Buy. Maybe it's because a cast iron shrimp pan just isn't their priority, or maybe it's because they're not entirely sold on its utility. Either way, there needs to be a more foolproof way to get the consumer from point A, learning about the product, to point B, making a purchase.
Enter the media and merchandise pop-up shop. The Strategist, New York Magazine's review column, has been running a pop-up in SoHo called "I Found It at the Strategist" that features a slew of inspiring products.
Each piece of inventory comes from the magazine's editorial pieces over the past year. What's more, the Strategist is emphasizing experience. Consumers get to test out beauty-related products before buying, play around with innovative, never-before-seen tchotchkes and get awesome gift inspiration plus free gift-wrapping. Plus, with every social media post, consumers have the chance to win a $500 gift certificate.
The key difference between this initiative and BuzzFeed's Goodful line in Macy's is that the Strategist isn't creating a line of merchandise – they're curating and displaying other brands' products. This is a huge win for everyone. The Strategist retains its position as an innovative thought leader (and makes a few bucks in the process) and the products gain consumer awareness, sales and key market insights. Most importantly, they get to align themselves with the iconic NY Mag – a huge benefit for up-and-coming brands.
The consumer wins, too. They get non-partisan recommendations from the Strategist, whose editors are very diligent about rating products. And they get an exciting retail experience from a trusted – and trendy – publication.
This model isn't entirely new: the media pop-up follows the same mentality as the "As Seen on TV" strategy. The Shake Weight, the Snuggie, the George Foreman Grill – these are all exciting products that entered the retail lexicon through direct-to-consumer promotion. The difference between big and massive sales happens when these products cross the line from TV pitch to in-store retail display.
When you walked into a department store, Bed Bath & Beyond, or Walgreens, there was the "As Seen on TV" section right in front of you with the tangible products you'd seen and were curious about. So you'd pick it up and make the purchase. That's exactly how I bought my first Shamwow! At "I Found It at the Strategist," shoppers get to see and touch products, plus they get memorable experiences. It's a delightful combination of convenience and retail theater.
 The biggest takeaways to be gleaned from this initiative are: 1) media outlets are entering the retail ring more and more, 2) that can be a good thing for all parties, and 3) pop-ups make it easy to bridge the gap from media outlet to retail store. [bctt tweet="Media publications have the resources and the clout to bring brands and consumers together under their highly visible umbrella, or should we say inside the walls of their very intriguing media and merchandise pop-up." username="medallionretail"]
At Medallion Retail, we're always brainstorming new ways to create inspiring pop-ups that bring brands and people together. Reach out to Michael Decker or Chris Gordon today to start developing innovative ideas at engage@meetmrpopup.com.
Ready to connect to your customers in a more meaningful way?
CONTACT OUR TEAM