Signage, Permanent, Temporary, Corrugated Display, Retail Trends, Retail Marketing, Consumer Behaviors
A Tale of Four Dollar Stores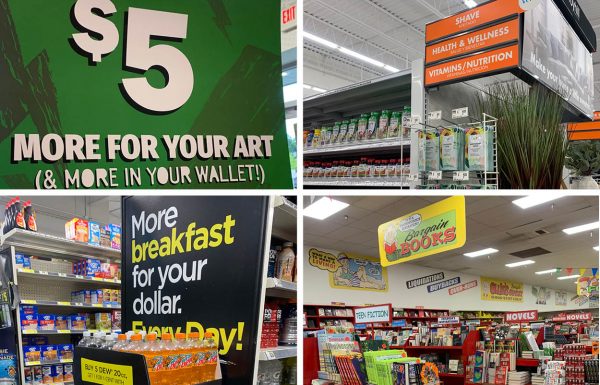 Trends may come and go, but bargain hunting will be around forever.
Humble beginnings
In 1927, Harry Cohen opened his first store in South Ozone Park, Queens, in New York. A unique and somewhat eclectic deep-discount retail concept, John's Bargain Stores quickly became the place to go for exploration, discovery and astoundingly cheap prices. Though much of their inventory was comprised of surplus items from manufacturers, they also purchased many second-hand or imperfect items. Adopting a slogan of "Give us your mistakes and we'll make them pay," very much like the Walmart of today, John's Bargain Stores purchased in bulk, further lowering costs, while increasing their margins. In fact, during their peak, John's Bargain Stores were able to order as many as a quarter million units of a particular product at a time. Pretty impressive, considering this was 30 years or more before Walmart opened their first store and cornered the market on bulk purchasing.
Prior to the age of data collection and sophisticated market research, Harry Cohen (and family) sought out retail space in areas that most other companies of their size and stature often ignored or never even took into consideration. One of the company's directives was to establish stores in areas where more used baby strollers could be seen than new cars. Several of their stores were in close proximity to rail and bus lines. Although they struggled in later years, they opened a retail channel and paid attention to underserved communities and those struggling to stretch their dollars further and further.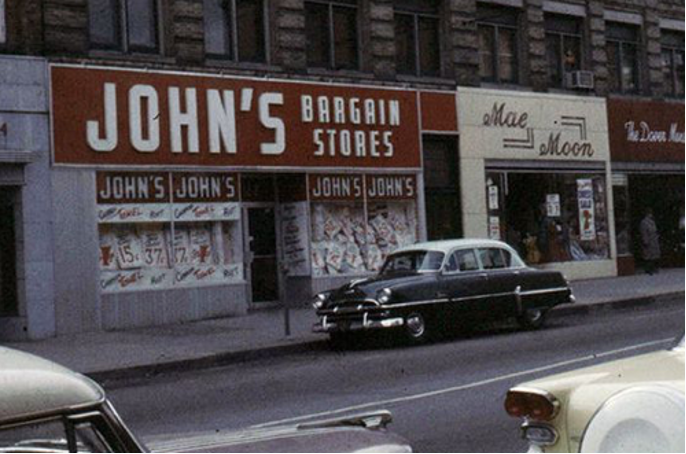 Harry Cohen knew then, as we continue to know now, that shoppers are always on the hunt for a bargain. And depending upon where they live and their median income, the reasons and passion for that hunt will differ greatly. Which is why the dollar store business model over time has taken on so many new shapes, sizes and strategies. And why dollar stores continue to gain in popularity and growth, especially in these days of inflation-stressed consumers of all demographics.
Right now, in 2022, there are roughly 37,000 dollar discount stores in the United States. And while there are multiple brands seemingly popping up almost weekly, most of this growth has been centered around a handful of strong players. Brands who seem to have gotten things more than right in terms of being able to shake the enigma of deep-discount retail; turning what was once a junky collection of mismatched items into an organized and strategy-driven retail channel.
Ethan Chernofsky, VP/Marketing at traffic tracker and marker researcher Placer.ai, observed that, "When we think of the giants of retail, we quickly think of Walmart, Target, and Costco, yet there is a real potential for the brands like Dollar General, Five Below and others to quickly enter that rarified air. The success begins with a deep understanding of their target audience and an understanding of what to provide and where. This enables expansion strategies that drive almost immediate success. In addition, these brands have taken very strong steps to widen their offerings in order to fulfill more of the retail needs of their base."
We decided to take a closer look at four of those brands: Dollar General, Big Lots, Ollie's Bargain Outlet and Five Below, curious to see what they were doing in-store. Efforts they were deploying that – aside from consumer need pushed by rising inflation – might be a factor in their continued success. How they approached communicating brand value and honing their approach in connecting with shopper personas, creating a unique but individually meaningful shopping experience for their customers.
What we found was that dollar stores have come a long way since the John's Bargain Store days.
They've matured. And they are continuing to carve out a firm presence in retail, many with aggressive growth plans, continuing to evolve in phases and stages that are sure to keep resonating with shoppers long past the economic challenges we face today.
1. Dollar General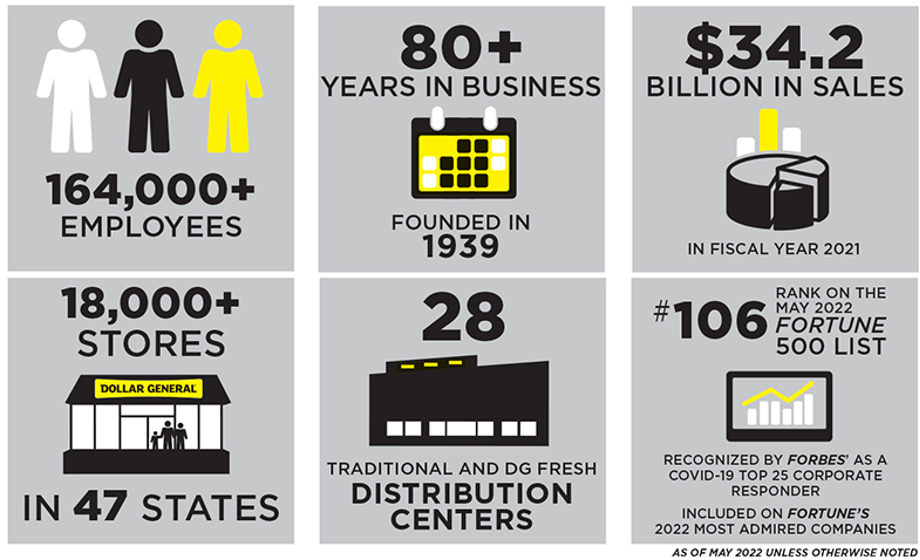 Fast facts
Stores are often established in underserved, rural communities. According to Forbes.com (9/2021), "Retail accessibility, and particularly affordable retail accessibility, is extremely important for our customers to purchase the essential items they need every day," says Steve Sunderland, Dollar General's executive vice president of store operations. "We recognize we are uniquely positioned to support a significant percentage of the American population, and in particular a portion of the country that may otherwise lack access to household goods."

According to Sunderland, Dollar General is often asked by cities, towns and their residents to open a store in their area. Residents of Earth, Texas, and Koshkonong, Missouri, for instance, launched letter-writing and social media campaigns to convince Dollar General to come to their hometowns.


Aside from providing shopping access in rural areas, Dollar General also gives back to those small communities that they operate in. According to their website, each year, the Dollar General Literacy Foundation (DGLF) provides the opportunity for schools, nonprofit organizations and libraries within a 15-mile radius of a store or distribution center to apply for grants to support adult, family, summer and youth literacy programs (www.dgliteracy.org). Since its inception in 1993, the Dollar General Literacy Foundation has invested more than $216 million in nonprofit organizations, schools and libraries that have helped more than 15.4 million individuals of all ages to read and prepare for their high school equivalency diploma or learn English.

Dollar General sells products from America's most-trusted brands, such as Clorox, Energizer, Procter & Gamble, Hanes, Coca-Cola, Mars, Unilever, Nestlé, Kimberly-Clark, Kellogg's, General Mills and PepsiCo. The store's fresh layout is designed to make shopping simple for customers.
What are they doing in-store?
Dollar General stores have come to represent a sort of hybrid of a neighborhood convenience store, grocery store and department store. Depending upon the location and community served, one can find anything from ready-to-hang curtains and seasonal décor, to Gatorade and Reese's Peanut Butter Cups.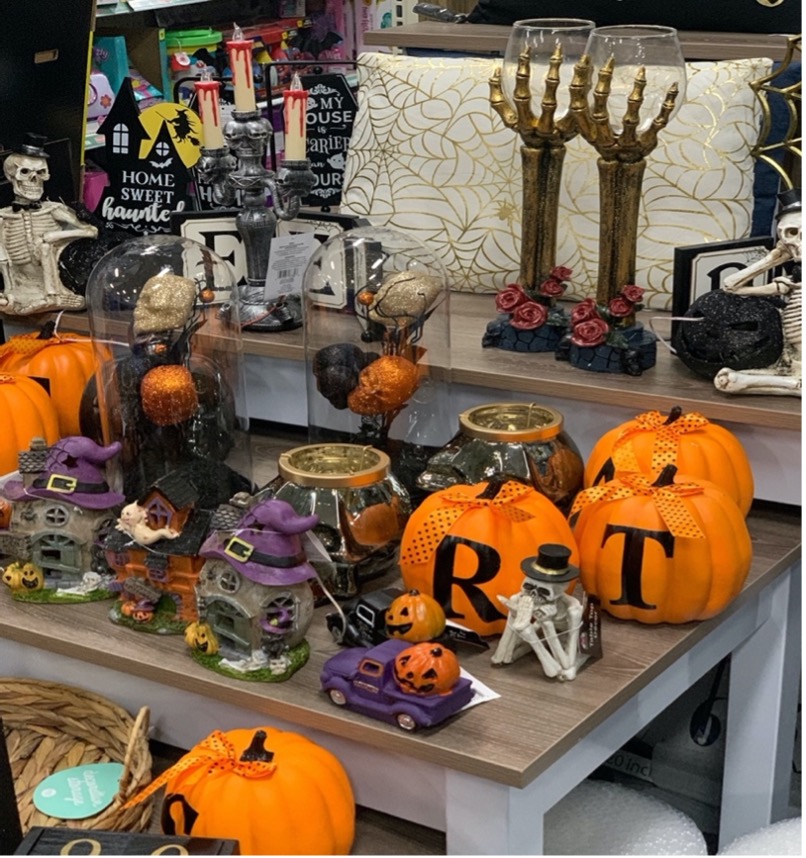 Set in a typical 7,400-square-foot space, aisles are tight and loaded with merchandise that is displayed by category. No overly branded displays. No sexy marketing campaigns. What you see is what you get. Things are where you would intuitively expect them to be. Which makes for a fast find of those products that brought you into the store (need) but leaves you time to discover things you hadn't necessarily come in for (discretionary discovery). And because it's a 'dollar store,' there's money left over to shop with.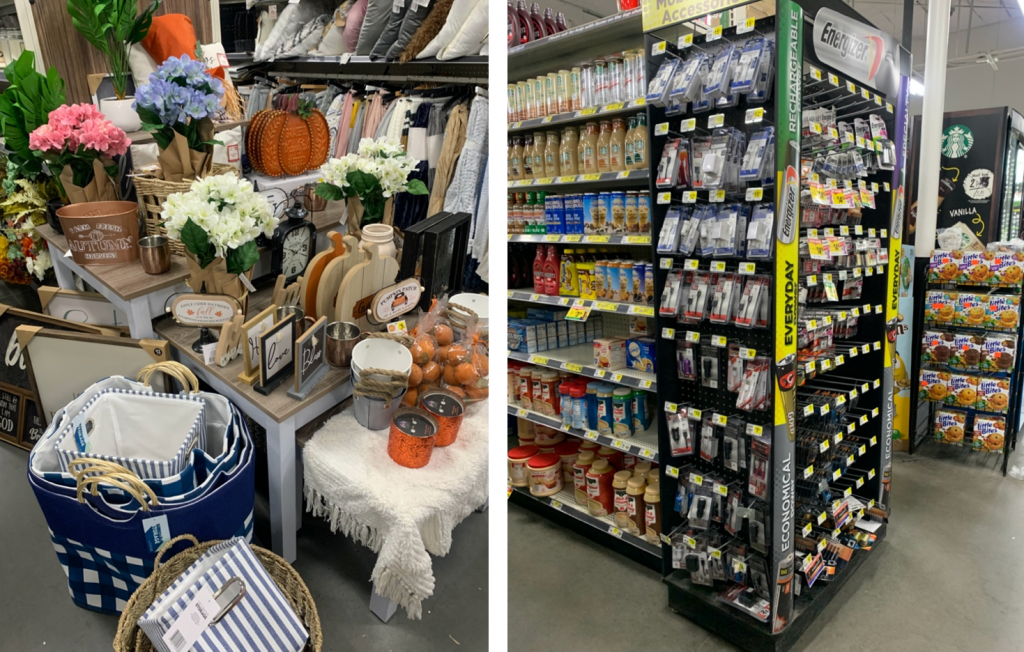 Although food represents about 24% of sales at most dollar stores, most items in Dollar General are priced at 20–40% less than their counterparts in grocery and drugstores (i.e., Target, Walmart), making the company an attractive place to shop in times of financial turmoil. And this includes the immediate necessities for families, like diapers, formula, bottles and health aids.
In recent years, Dollar General has sought to change the concept that cheap translates to bad- for-you. Their in-store marketing is simple. Not a lot of flash. But it gets the message across – that top brands are available to their shoppers at greatly reduced prices, permitting families to stretch that dollar without sacrificing quality.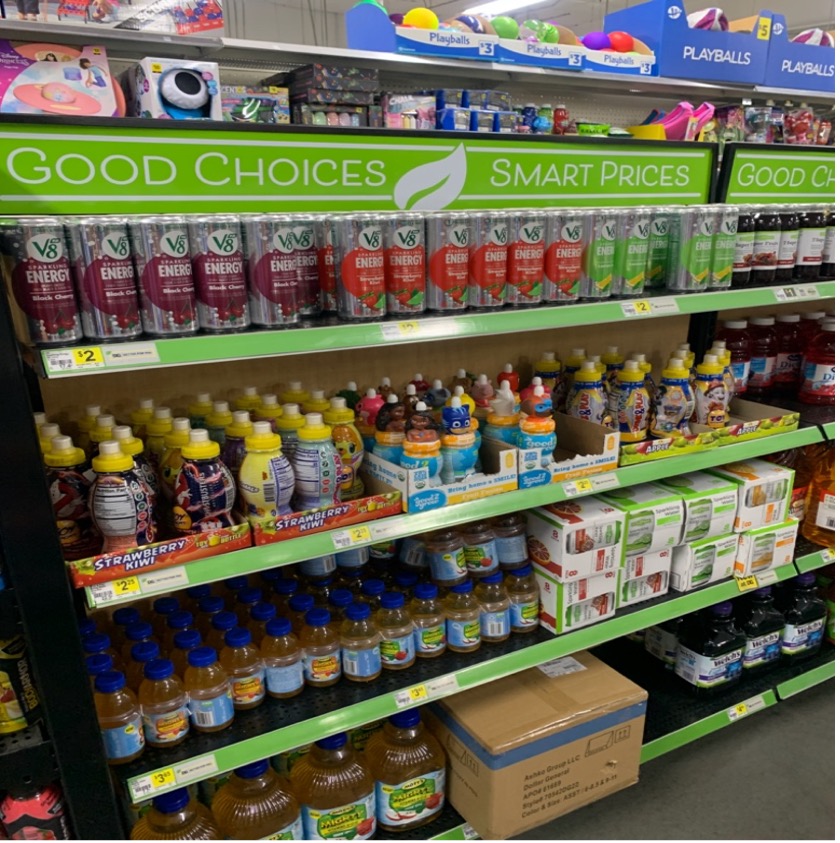 And while acceptance of certain government assistance programs may vary by store location, Dollar General also makes a point of being a retailer that understands the challenges that their shoppers face and promotes programs like SNAP and acceptance of EBTs.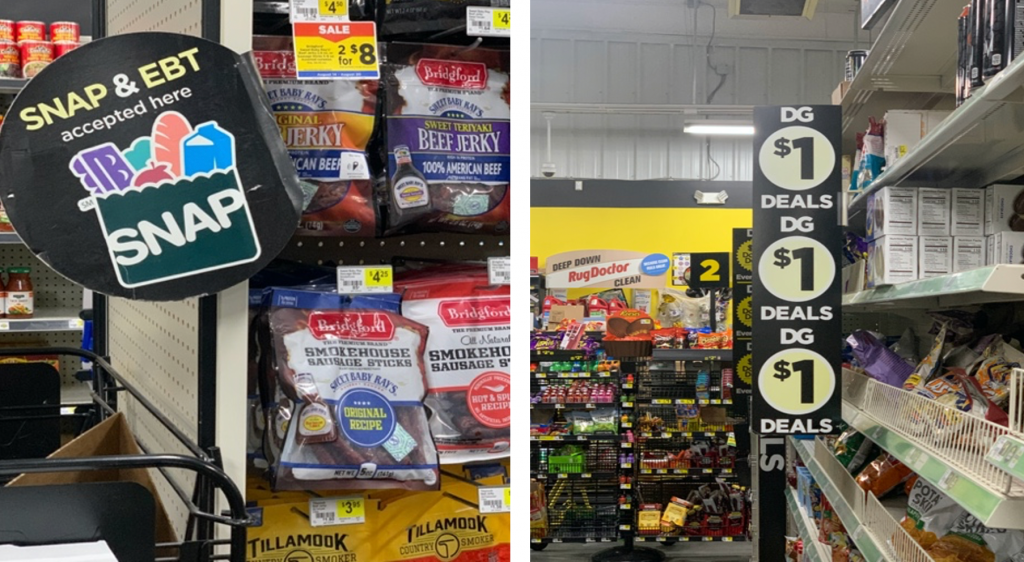 While not spending a whole lot of in-store marketing dollars, Dollar General is literally using their stores as brick-and-mortar marketing collateral. Whether it's a store on a highway in Nebraska or in a rural community outside of Albany, New York, their consistent and growing presence in these areas and small communities serves as physical marketing – better than any billboard or circular.
And DG's push into the 'lifestyle' sector with their newest retail concept, pOpshelf, may very well prove that cheap can definitely still be quite cheerful.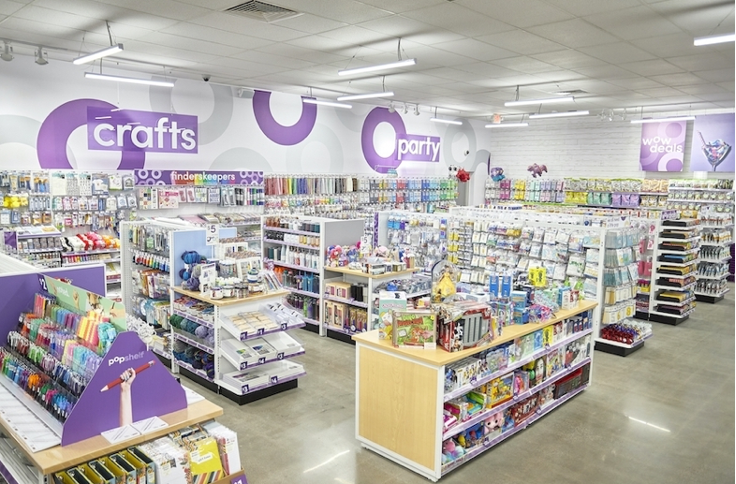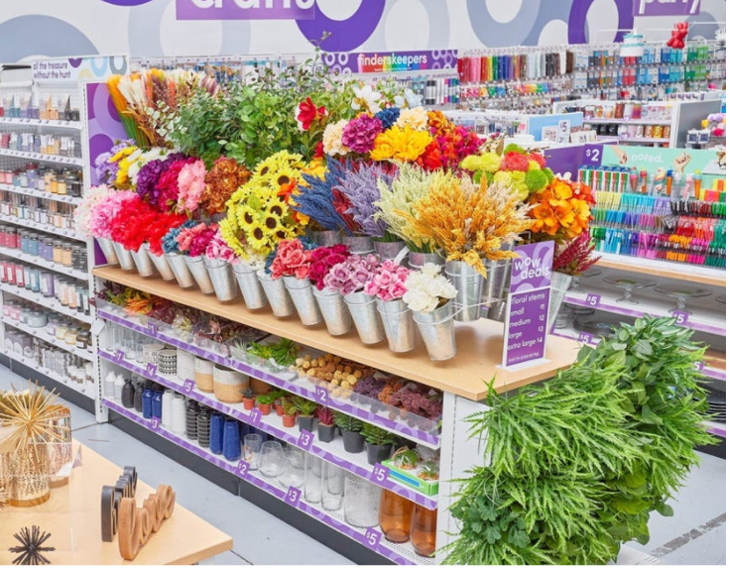 2. Big Lots
Sol Shenk founded the company that is now Big Lots. Starting out negotiating crazy closeout deals mostly in auto parts, the company soon moved on and began operating as Consolidated International. That led to the Odd Lots / Big Lots closeout chain, which eventually in 2021 was converted into the national brand we now know as Big Lots.
Mission: "We help people live BIG and save LOTS."
Taking a cue from big-box retailers, and as one of the nation's largest closeout retailers, Big Lots has gone through a metamorphosis of sorts over the years in terms of its presentation in-store. With 1,400 stores in 47 states, it's had to define its brand and value proposition, to set it apart from other typical deep-discount, general merchandise stores. Focusing on inventory closeouts in home furnishings and décor, they have pushed out into other categories of products, like apparel and brand-name CPG.
One of its most recent pushes has been to the college market. Inflation being what it is, families with kids soon off to college are even more hard-pressed to ready the new student for dorm habitation. And who wants to spend all that money, when next year, the turquoise planter is replaced with a neon-colored bean chair?
So, the presentation in-store for these cash-strapped parents with trend-demanding kiddies can't be underestimated as a buying influencer. Lifestyle, color and compelling in-store signage/messaging all count. A dollar store approach here would not be palatable – the feel in a Big Lots store is somewhere between a Target and a Walmart.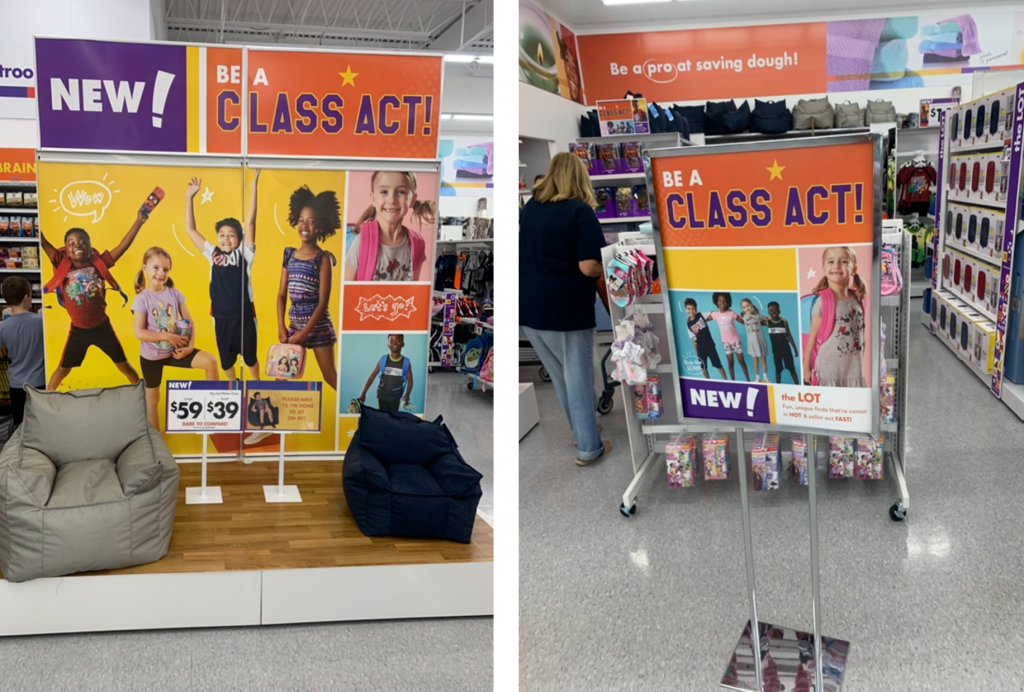 With back-to-school in full swing, there's lots of messaging here. Fun visuals. This doesn't look like a 'closeout store.' And they make use of back walls (still in the line of sight of the shopper) and ceilings. Fun copy, promoting a mindset of saving big, appears throughout the store.

And something that isn't typical in deep-discount stores: easy navigation. Segueing into other departments that border their largest department – furniture. Furniture sales for Big Lots is a popular draw for foot traffic in-store. And purchasing the rights to Broyhill and its related trademarks has helped reinforce the idea that just because it's discounted furniture, Big Lots is still a place to find a quality brand.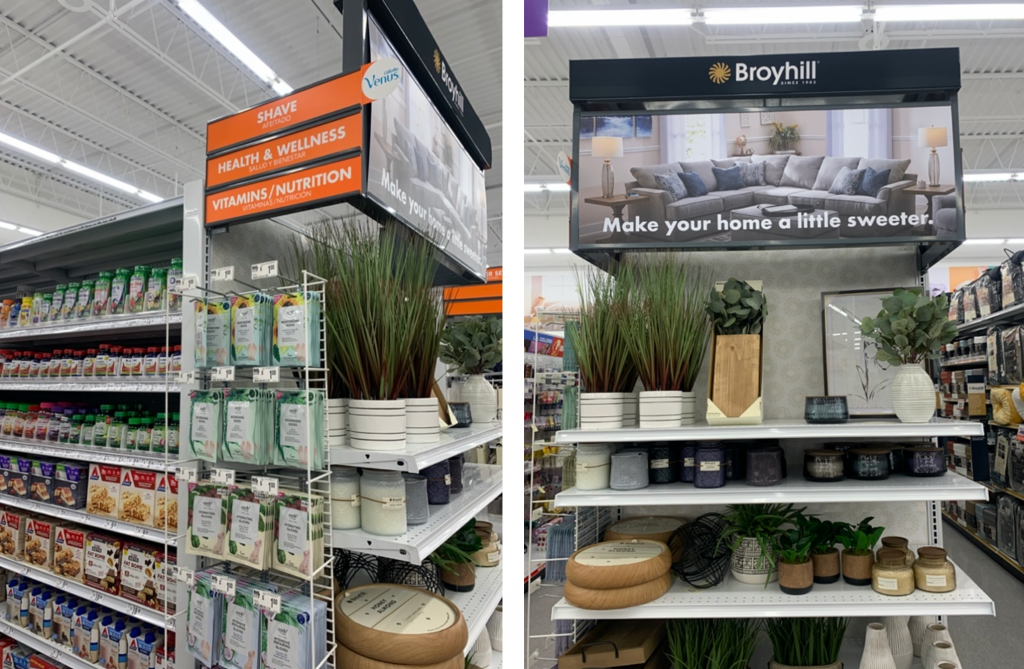 Again, it doesn't feel like you're in a closeout store, but more like in a smaller-footprint Target Express store. It's bright, cheery and well-signed, and it's easy to find things (which is more often a discovery).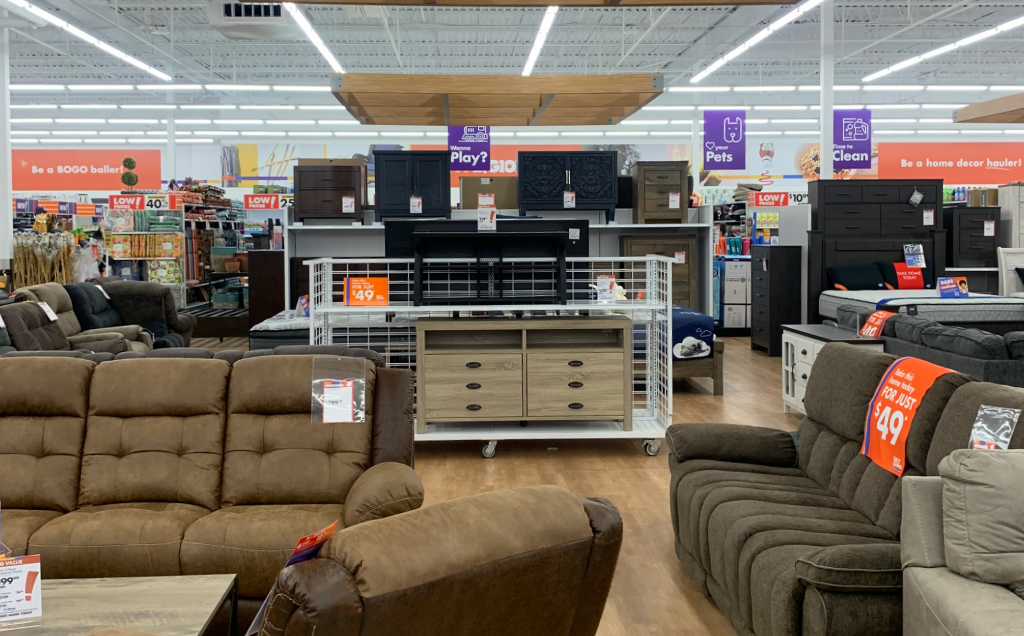 Everything gets moved around quickly though. While an average 20,300 square feet of selling space might seem like a lot, it quickly gets used up by large recliners and couches. But unlike dollar stores, where sometimes staff can't keep up with product deliveries in-store (and they don't have a back receiving area), Big Lots stores seem to make a point of not having boxes of product crowding the floor.
They utilize space very well. Aisles are wide enough for shopping carts and attractive endcap displays. And no matter where you look, there are signs reminding you of their mission statement – "Live BIG and save LOTS!"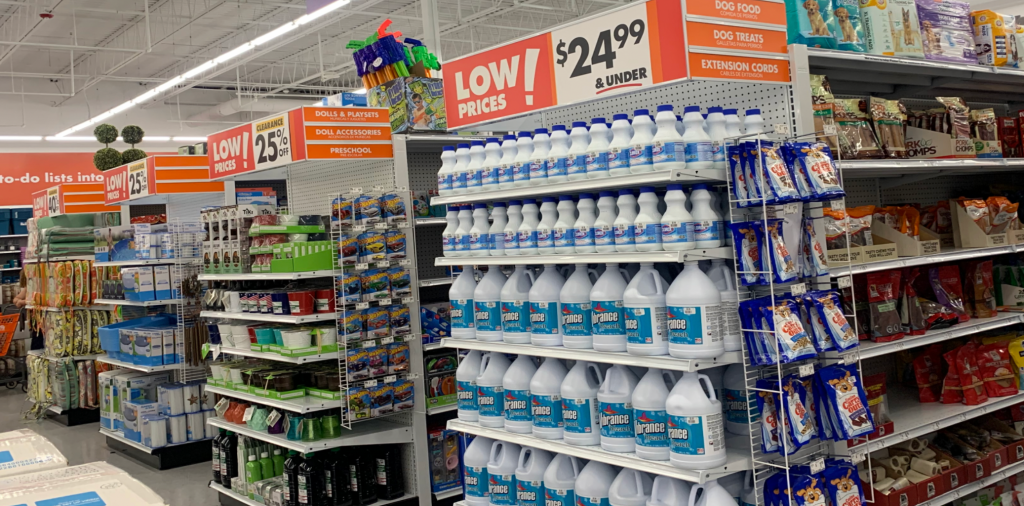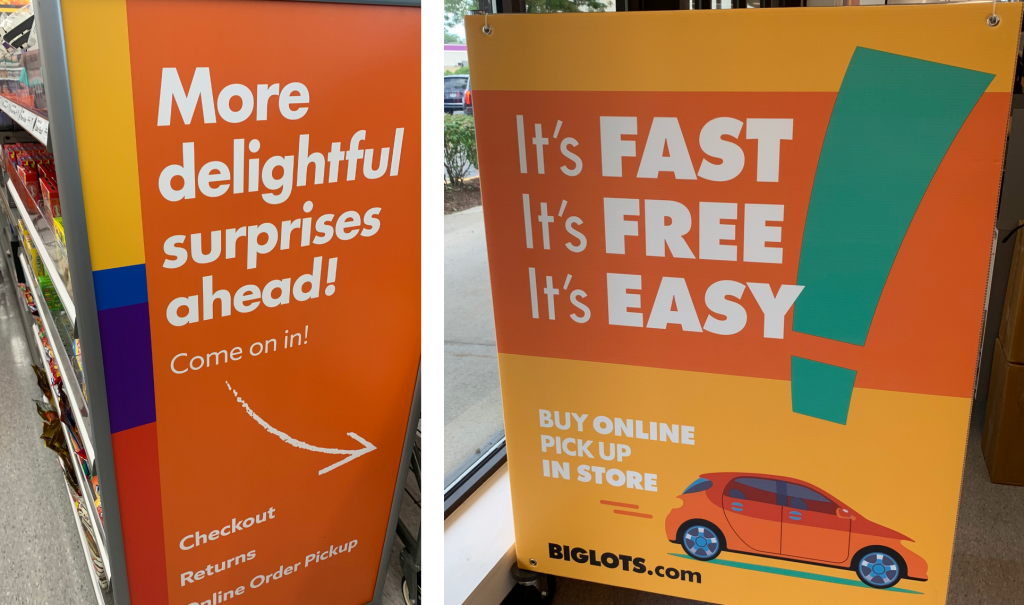 In addition to their BOPIS offering, Big Lots' recent collaboration with Shipt has put this retailer in the same convenience arena that its competitors (Walmart and Target) play in.
Leveraging Shipt for deliveries of small and midsize home goods, grocery and home décor orders, which includes items like toys, paper products and small furnishings, the service complements Big Lots' existing same-day delivery offerings for bulkier items like large patio furniture. Convenience? Name brands? Quality furniture at 40% savings? It's not difficult to understand why this deep-discount retailer will remain relevant, even beyond economic challenges.
3. Five Below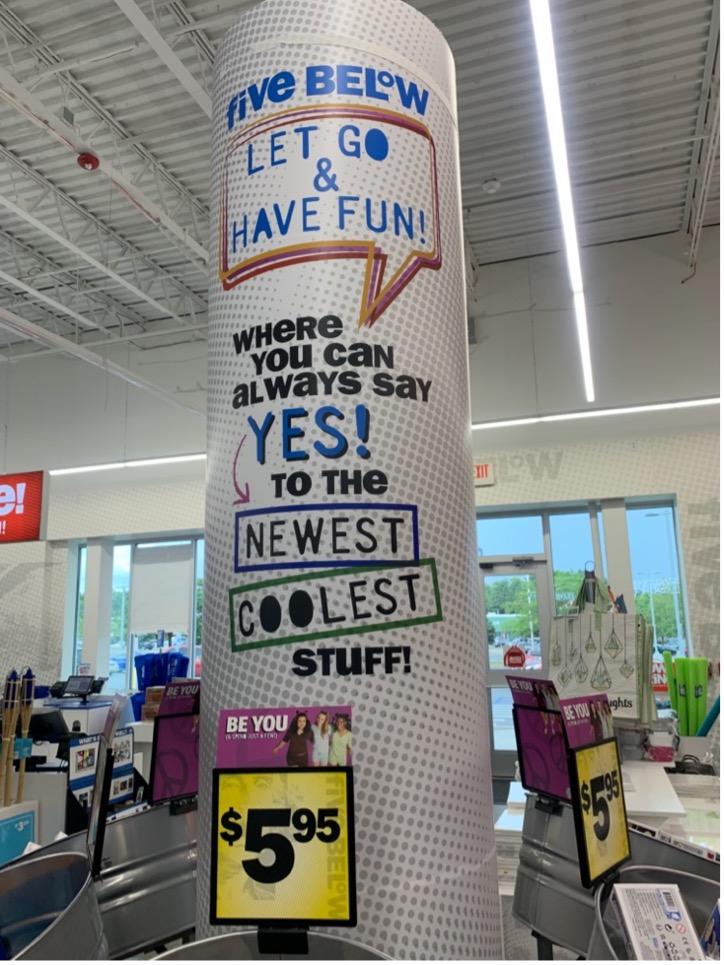 Coming in at #3 on our dollar store review, since 2002, Five Below has made it a mission to make buying cheap – and cool. With close to 1,200 stores in 40 states, their mantra is "Let go & have fun."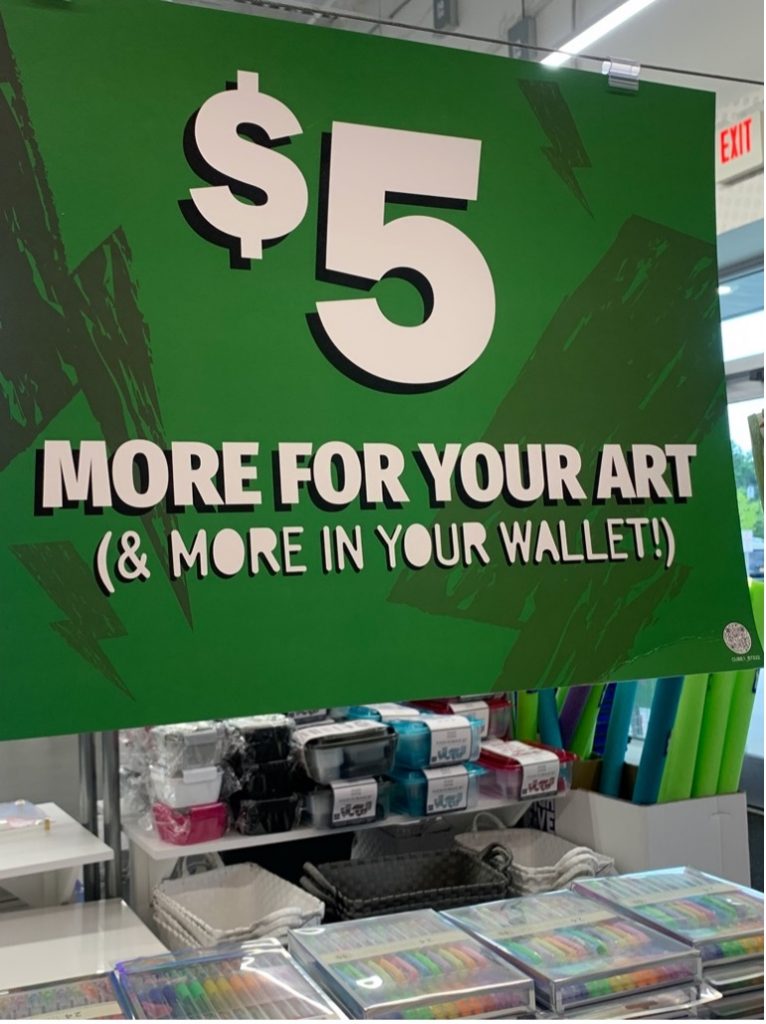 Targeted at attracting "tweens, teens and beyond," their product offerings center around essentially 8 categories:
New & Now (New arrivals)
Party (Holiday decorations, favors, games, greeting cards)
Room (Room décor, updates, organization, home office)
Create (Arts & Craft supplies)
Play (Toys, board games, seasonal items like pool floats)
Style (Apparel, jewelry, backpacks)
Candy (Candy, snacks)
Tech (Bluetooth speakers, computer & cellphone accessories, gaming gear)
With most items priced somewhere between $1 and $5, they do a great job of speaking in the language of their target base. And with inflation hitting just about everyone's wallet and tight household budgets bringing discretionary spend down, shoppers not only need but still very much want to buy things that bring them joy – but without breaking the bank.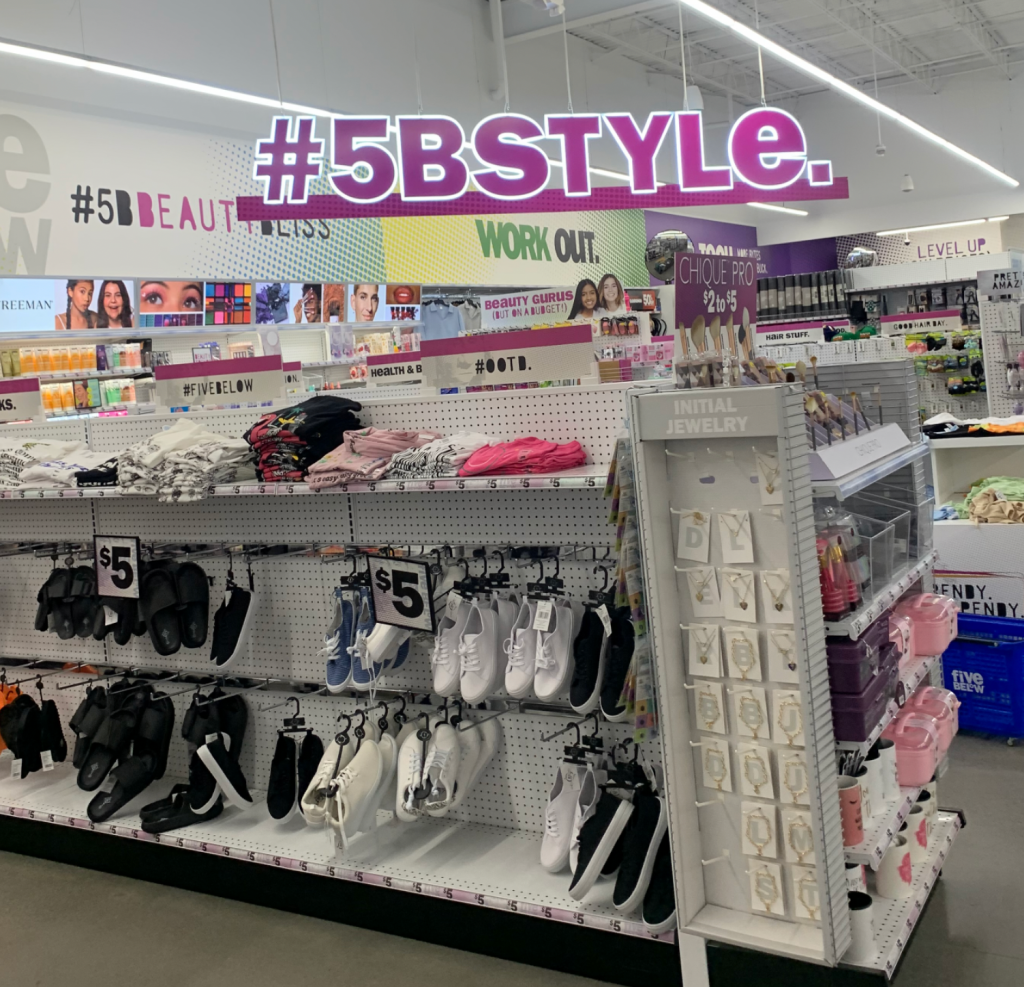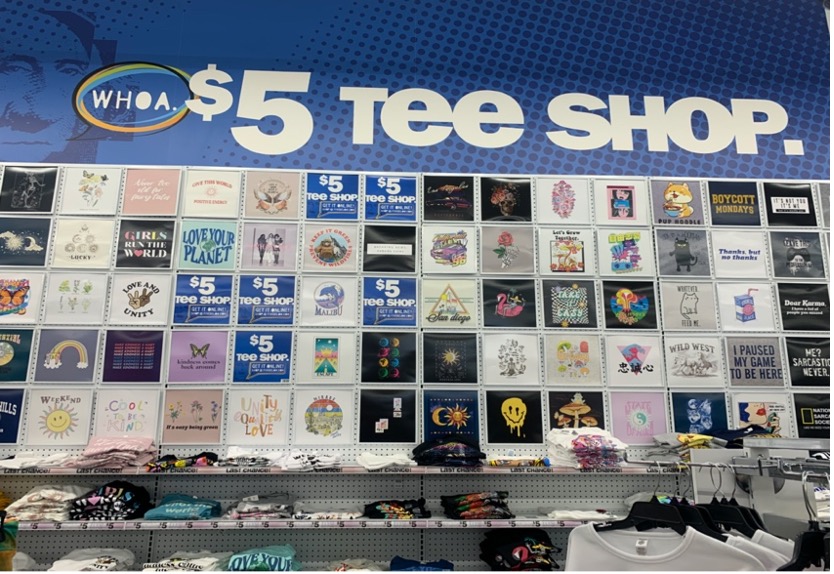 And Five Below does an impressive job at getting their 'save' message across all sections of their store. Signage and display is snappy, bold and neon-bright.
They consistently display language that speaks to the heart of their shopper lexicon. Fun and playful. It's hard not to want to explore the store. With every turn down an aisle, there's another discovery. Things you didn't necessarily come in for, but heck, it's so cheap! Why not?
And even in their "Five Beyond" section, located in the rear of their store, you can still find great value on merchandise offered, even though it's above the $5 threshold.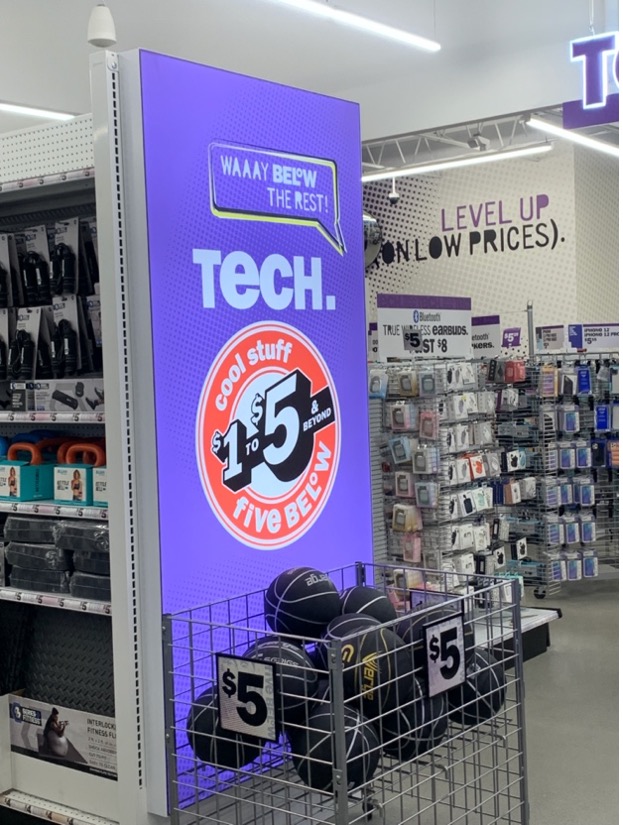 And when you're talking about the back-to-school crowd, buying school supplies here isn't going to mean you have to take out a second mortgage. From notebooks and backpacks to sneakers and lunchboxes, parents can find pretty much everything and anything to outfit the tykes for their return to the classroom without compromising on the coolness factor.
But if splurging on discretionary joy at inflation-busting prices is a wonderful thing, then adding in an act of goodwill elevates that experience to priceless.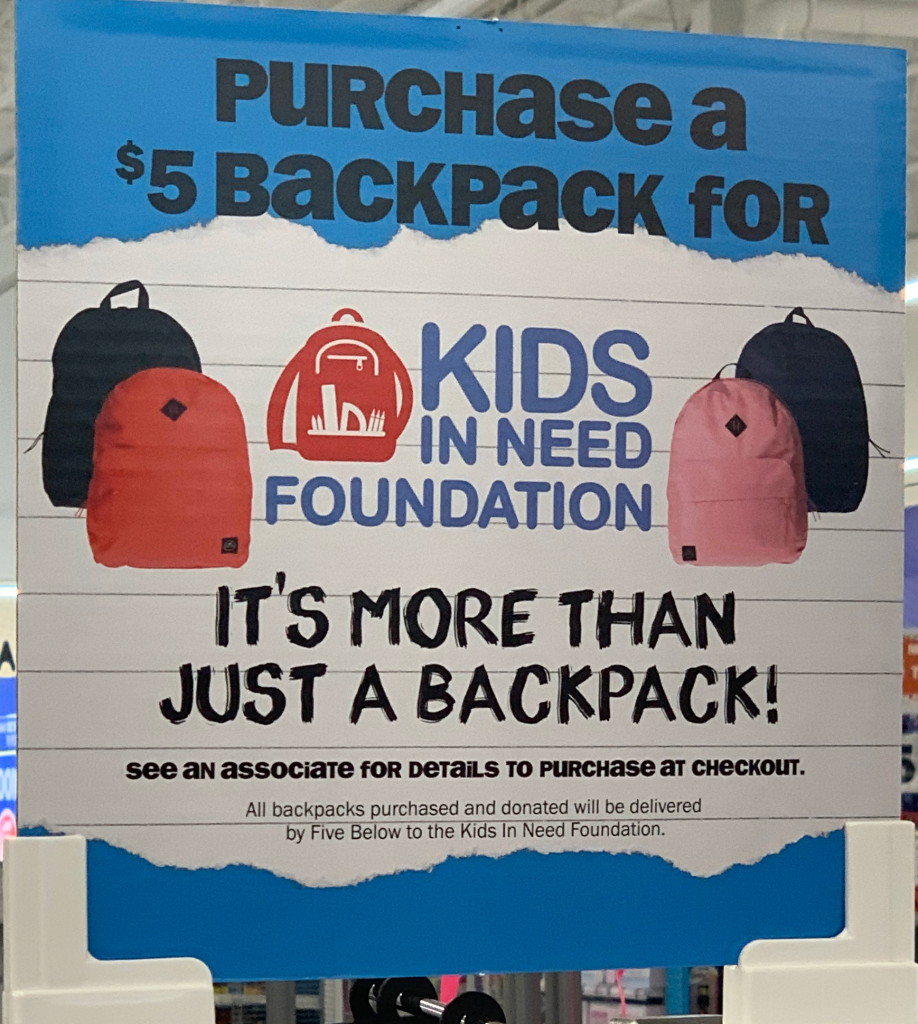 It seems that Five Below hits on all the pain points and interests of its audience and has carved out their own dollar store niche. It's why shoppers continuously return to them. In fact, according to Placer.ai, "Compared to 2019, overall visits, visits per venue, and the share of returning visitors have all grown – an indication of how the brand successfully turned the pandemic lemons into lemonade. In the 20 years since its founding, Five Below has built itself up into a household name, and the brand's future looks rosy."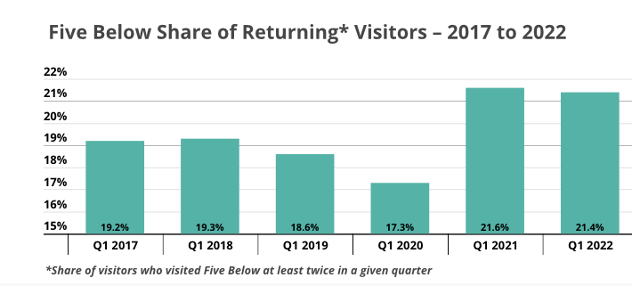 4. Ollie's Bargain Outlet
Last but not least among our dollar store, deep-discount retailer picks is Ollie's. A unique spin on the deep-discount theme, what Ollie's offers its customers extends far beyond the typical dollar store experience.
Is it a closeout retailer? Yes. Is it a salvage retailer? Yes. Is it a street bazaar without the funnel-cakes and carousel ride? Yeah, fully outfitted with unabashedly handmade signs with cheeky copy and a sense that you've entered an alternate universe.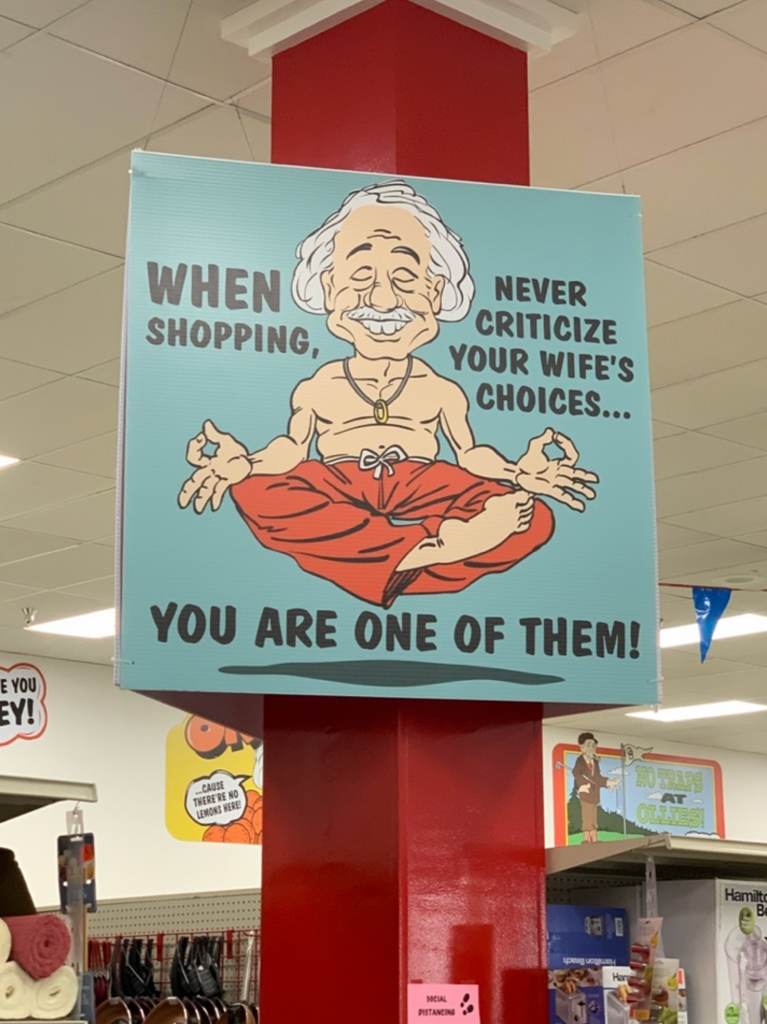 Known for their tongue-in-cheek humor, Ollie's doesn't run from cheap – it embraces it. And makes you feel welcome, not judged and sorta like you're rifling through your crazy Aunt Sarah's basement. You know, the auntie who never missed a flea market sale in her life and still had stuff in its original packaging.
Around since 1982, Ollie's is one of America's largest retailers of closeout merchandise and excess inventory. On their website they describe their retail business model aptly – "Our 452 'semi-lovely' stores sell merchandise of all descriptions and some beyond description."
And yes – some of their merchandise is beyond description. But quirky is what they're all about. And humor is prominent throughout their signage and display. Never missing a chance to reinforce the "Good Stuff Cheap" message of their brand.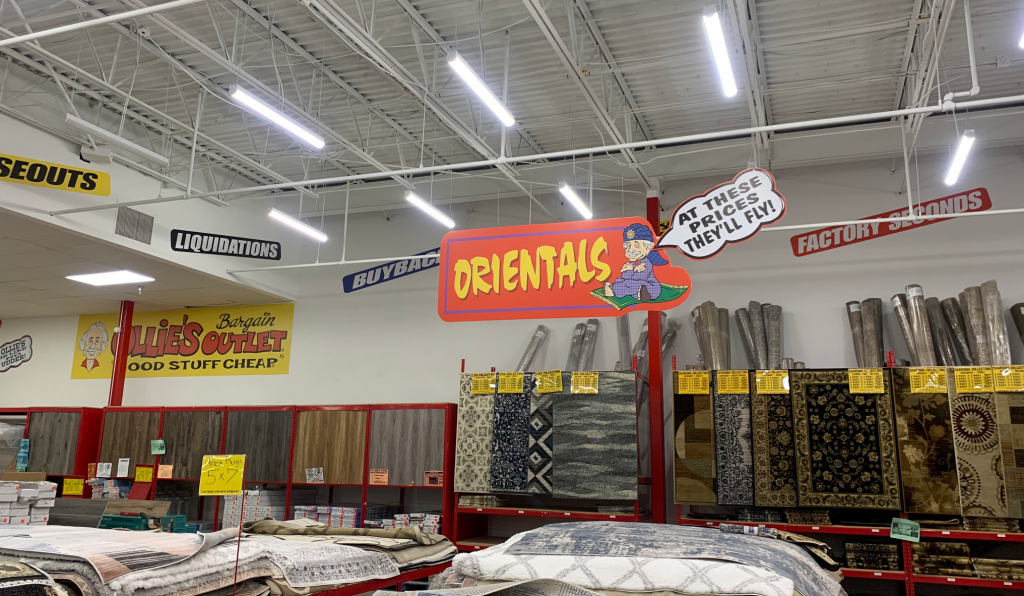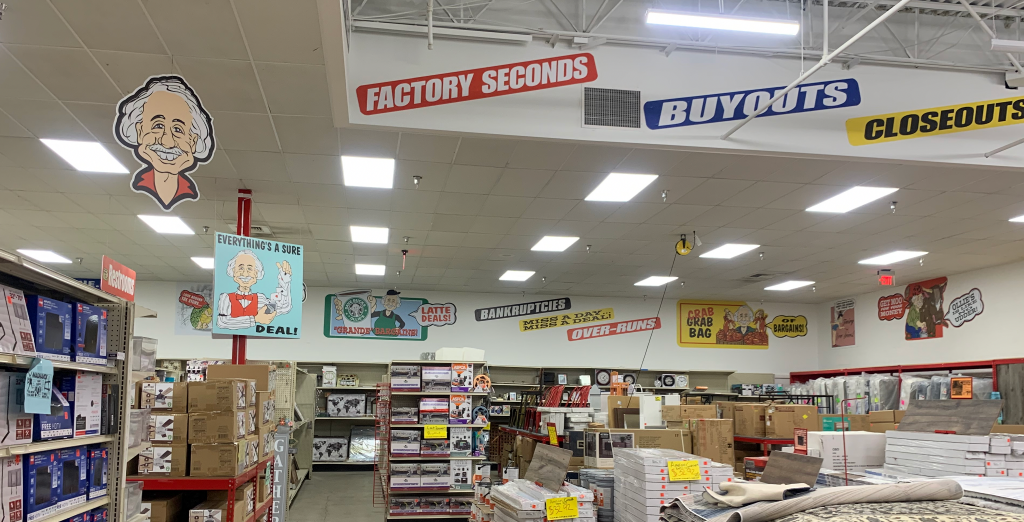 Granted, not much sexiness going on here. But their audience isn't really paying attention to ambiance. They're looking for great deals. Something they'll have to go in-store for, because Ollie's does not sell online.
In fact, since 1982, they've developed a loyal following whom they refer to as "Ollie's Army." And they have a loyalty program that makes you feel more part of a special club than a shopper looking for loyalty rewards. And other operating policies also that show they understand their shoppers intimately.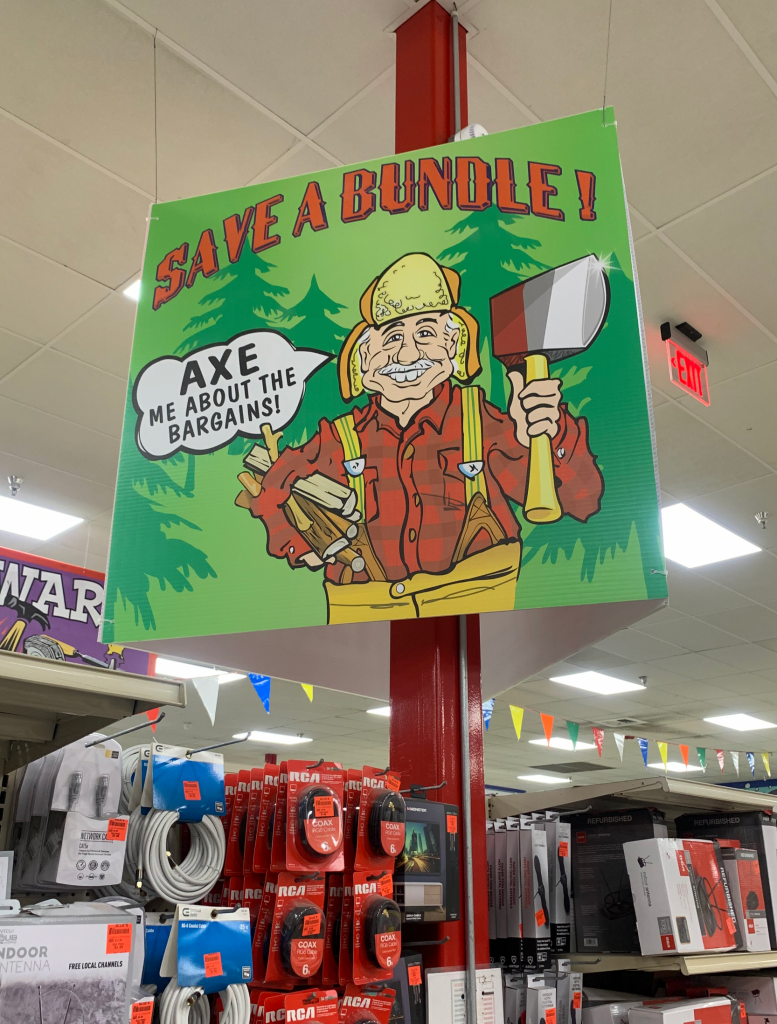 Knowing that perhaps their customers may buy something that wasn't quite perfect for them (or overall, since their inventory includes 'irregular' merchandise), they don't make their shoppers jump through double hoops to get satisfaction. They make returns easy by having a no-questions-asked 30-day return policy that simply requires a receipt of purchase.
When you're rummaging through Ollie's aisles, it truly feels like you're at that fall flea market. An adventure that provides so many interesting finds – including brand names – that you keep looking (and returning) for another adventure that could be one aisle away. And given that they get new shipments in daily, it's one of those stores that begs to be shopped regularly for those one-of-a-kind bargain finds.
Although 80% of its sales come from the 12.6 million repeat customers who belong to its "Ollie's Army" loyalty program, consumers who have never shopped in a Bargain Outlet before will have 45 new places to do so this year, as the company moves forward with a brisk new store opening plan enroute to 1,050 locations.
"The value we provide is more critical than ever as we recognize that our customer has been impacted by the rapid rise in inflation," said John Swygert, Ollie's president and CEO. "This type of environment plays into our strengths."
The Wrap-Up
While each of these stores serves different audiences, the fact is that given these extraordinary times, that audience base is expanding. Everyone is feeling the pinch and looking to find other resources to buy what they need and what brings them happiness.
Dollar stores, once looked upon as the last channel of retail purchasing, have matured and refined their brand messaging. They've recognized their audience and tuned in to their challenges and pain points. They've not tried to be everything to everyone. That's just exhausting. And you can never really please everyone.
Instead, they've embraced their dollar store, discount retailer status. And they've upped their game in-store. Cheap doesn't need to translate into sloppy. And there's nothing wrong with looking like a big-box retailer while offering dollar store prices. If you can find ways, especially in the rapid growth some of these brands have faced of late, to distinguish your brand and make your value proposition something people immediately recognize, identify with and seek out, why not? That's what growth is all about.
In 1962, when Sam Walton opened up his first store in Rogers, Arkansas, I doubt highly it looked like the Walmart stores operating today. The point is, you have to know your audience, what motivates them, what will make them buy. Lather. Rinse. Repeat.
The incentive to shop dollar stores for some will simply be the crazy prices. For others, it will be the pursuit of joy without breaking the bank. But whatever the motivation has been, I doubt dollar stores are going to go away anytime soon. Instead, I see them becoming more and more relevant to consumers. Inflation notwithstanding, Harry Cohen got it right way back in 1927. People will always be looking for bargains. It's all in how you approach what the consumer is demanding.
Medallion Retail has over 63 years of deep retail experience and expertise in retail marketing. Through market ups and downs, we've helped dozens of clients drive sales in-store, and we can do the same for you.
Come see what Medallion Retail can do for your brand by visiting us at medallionretail.com or by giving Chris Gordon a call at 646.677.5618.
Ready to connect to your customers in a more meaningful way?
CONTACT OUR TEAM