Signage, Permanent, Temporary, Corrugated Display, Social Media Integration, Brand Positioning, Pop-up Retail, Retail Marketing, Consumer Behaviors
Achieving an Authentic Edge: The Brandless Impact Opportunity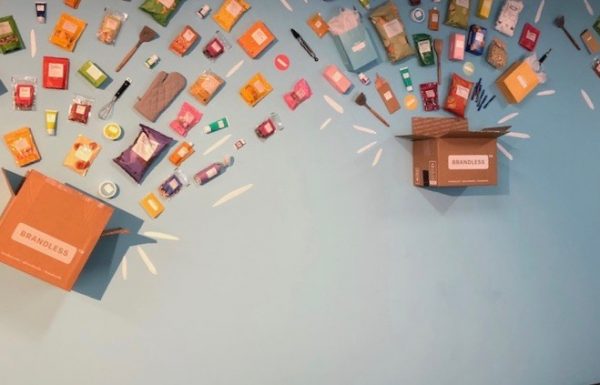 Everyone has heard the old adage "less is more." Maybe you even live by the acronym KISS – "keep it simple, stupid." But where and how does this minimalistic philosophy lend itself to retail? If you're one of the biggest up-and-coming brands, it's the backbone of your company.
Consumers (and investors) are falling in love with indie brand after indie brand. Allbirds shoes, UNTUCKit shirts, Prose haircare – all of these brands promise little flash, high quality and strong values.
E-tailer Brandless is taking this idea to the next level. They've curated a line of over 300 products (and counting) that they're able to sell for $3 a pop thanks to cutting what they call "the brand tax." Logos aren't big on the label, just the attributes of each product.
But while the company has made huge strides, it's still noticing a disconnect between customers' experience online and in person. What better way to spread awareness and increase understanding than an LA and a New York pop-up?
An awe-worthy experience
Just recently, I decided to give the NY pop-up a try. All I knew about Brandless at the time was that it was an inexpensive e-commerce brand geared toward younger, budget-conscious consumers.
Upon walking into the pop-up, I was surprised – and delighted – to see that my preconceptions about Brandless weren't entirely accurate. This isn't just an e-commerce brand hocking inexpensive deals; it's a values-driven, quality-promising, transparent and sustainable retailer. There's so much more to their story than originally meets the eye.
Signs throughout the pop-up touted a social media philanthropy initiative: post a picture to Instagram with the #brandlesslife hashtag, and the company will deliver a free meal to someone in need (I also learned they do this for every purchase).
Throughout the space we were encouraged to test out various products and provide feedback. Signage indicated what was and, just as importantly, wasn't in each product – sales staff told us about the brand's dedication to quality sourcing. Overall, the pop-up pointed out a range of powerful themes – kindness, quality, sustainability, value, transparency, philanthropy – all working together to form a compelling, authentic message.
The missteps and the achievements
But here's the rub: not a lot of this translates into their digital marketing. Their big selling point is the $3 prices – basically a glorified e-commerce dollar store. Low on their web page are the mentions about quality and kindness, and their Instagram ads are more geared towards great prices. I didn't even know Brandless focused on philanthropy until I walked into the store. And that's too bad, because even the company's CEO says that consumers shop in accordance with products they value, like non-GMO, organic and cruelty-free (all things that Brandless focuses on).
[bctt tweet="At the end of the day, Brandless has a great grasp on what the consumer wants, they just need to tell a more cohesive story across every channel" username="medallionretail"]. If the heart of the brand isn't reflected or is thinly presented, the strategy is flat. This is a challenge for a lot of retailers, and finding a solution really starts with getting a better grasp on who the audience is.
That's not to say Brandless is falling short in their initiatives. And other companies (especially mass merchandisers with private labels) should take note of what the e-tailer's pop-up achieved on the brick-and-mortal level. Low ad spend doesn't have to translate to generic displays. In fact, the opposite should be true.
Clear, educational signage, loaded with creativity and details, emphasized Brandless's philanthropic and quality philosophies throughout the entire shop. There was a greenery wall to reflect sustainability, a wall with a list of ingredients that don't pass muster for their beauty products, and an installation of Brandless boxes to emphasize the e-commerce ease of delivery. It's all about having the essence of the brand translated in exciting ways.
A tale of two brands
The consumer trend toward minimalist brands has influenced some mass merchandisers and large retailers to dive into the private label business. Take Target's new Smartly essentials line. Offering everything from cleaners to lotions to paper plates for an impressive $2 or less, each product has a sleek label and boasts high-quality fragrances and potencies.
The concept is smart – mirroring (and competing) with many of the Brandless products. But in many ways, it falls short.
Brandless has the quality and the value plusthe added philanthropy, sustainability, consumer awareness – need I go on? Here, Brandless wins out on the authenticity consumers crave – the thing we're always talking about. As companies like Target attempt to offer consumers more value, impact-focused, values-driven brands like Brandless will start to stand out in the crowd.
At Medallion Retail, we specialize in creating winning displays and pop-ups that tell the story of your brand and help youstand out. Reach out to Chris Gordon or Michael Decker at engage@medallionretail.com to get started today.
Ready to connect to your customers in a more meaningful way?
CONTACT OUR TEAM