Strategy, Creativity, Pop-up Retail, Retail Marketing, In-Store Marketing
Rotating Pop-Up Retail — The Trick to Compelling Return Visits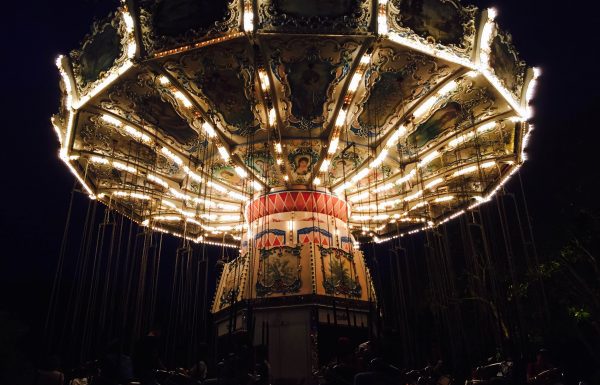 Everyone loves good pop-up retail. With inventive cross-brand partnerships and creative merchandising, you entice customers into your store for an exciting purchasing experience.
And there's the rub. One pop-up. One experience. One visit.
Why not turn one visit into two? Or more? When it comes to pop-ups, the more the merrier. There's no rule stating that you have to stop after one. Rotating pop-up retail is a trend that retailers are just starting to catch onto and using to bring customers into stores over and over again, for In-store Shopper Moments™ that are creatively fresh and exceedingly fun.
Round and round the carousel we go
Bloomingdale's is doing a 360 when it comes to pop-ups. The department store just opened The Carousel: a rotating in-store pop-up at its flagship location in New York City. Unlike traditional pop-ups, The Carousel isn't a one-time event, nor is it a one-theme event. Every two months, it changes, offering a whole new range of products organized around a whole new concept.
For The Carousel's first experience, Bloomingdale's chose an "Urban Explorer" theme, selling merchandise like sweatshirts, bike helmets, sunglasses, water bottles and sportswear. Of course, since picture taking is an important part of exploration, there're also Polaroid instant cameras, plus a prime photo op where shoppers can pose on what looks like the edge of a building overlooking the city. And when the pop-up is over? Time for a new idea, and happy customers returning for another exhilarating, Instagrammable moment.
[bctt tweet="Ever-changing, themed rotating retail pop-ups create excitement and anticipation. Customers can't wait to see what you'll do next. " username="medallionretail"]And of course, once they're in your store, they may be inclined to pick up a new coat before winter hits or buy a present for a friend's upcoming birthday. Something like The Carousel works especially well for department stores such as Bloomingdale's that have the space and the permanent real estate to pull it off.
Like The Carousel's Urban Explorer, some of the most successful pop-ups leverage unlikely brand pairings. Who would think of selling Pinch Provisions' "Minimergency Kit" – a set of beauty and hygiene products – alongside bike helmets and sportswear? At first glance, they don't seem to go hand in hand, but put them together, and it's just what the urban explorer needs.
Telling a STORY
The Carousel isn't an entirely new concept. A similar type of pop-up store concept called STORY has been drawing customers into its Chelsea store since 2011. Every four to eight weeks, STORY gets a complete makeover: changing everything from its merchandise to its fixtures to its color scheme.
Each different rotating pop-up retail concept, known as a "story," emphasizes a different trend, theme or issue. For one concept, STORY partnered with Nickelodeon to create a shop reminiscent of a high school yearbook, with merchandise featuring Nickelodeon characters and other 90s nostalgia. Another story used the theme "Out of Office" to sell vacation (and staycation) themed merchandise.
This trendsetting approach pays off. Customers don't just come to STORY for a one-time visit. Ever eager to see what the next concept will be, they return month after month. In fact, STORY's unique in-store experiences have created such a buzz that Macy's recently acquired the retail brand in an effort to re-energize its stores.
Pin it to win it
Struggling with pop-up ideas? You have an instant resource available: the incredible and inspiring Pinterest. From fashion to home renovating to DIY, Pinterest is practically bursting with pop-up concepts.
Beyond the classic pumpkins and leaves in fall, find ideas for unique product pairings that inspire consumers. You could go futuristic and deck your store out like the inside of a spaceship, filling it with mini planetariums, spacey t-shirts and starry jewelry – all because you noticed the high number of DIY star projector pins on Pinterest.
But Pinterest isn't just an idea generator; it helps you keep your thumb on the latest trends, especially as we head into the holiday season. Those are trends you can use to drive exciting new pop-ups – and drive customers into your store.
Imagine if Home Depot had a designated pop-up section that sold different merchandise every month. Beyond tiki torches in summer and snow blowers in winter, they could get unique with individualized DIY ideas. Maybe herringbone tiles start trending on Pinterest in January. The rotating section could highlight ideas for bathrooms, showers and floors, and the chain could even partner with Land's End to display plush bathrobes and slippers with a herringbone blazer thrown in for tongue-in-cheek fun. I mean, doesn't Home Depot's site already scream Pinterest inspo?
For many customers, fun seasonal pop-ups can transform a Home Depot visit from mundane to eye-opening.
In a world driven by social media "stories" and saturated with online and mobile shopping, Bloomingdale's and Macy's are looking for new ways to keep customers coming through their doors by constantly giving them something unexpected and digitally impossible. That means reimagining your store – over and over again – to create surprising, priceless in-store experiences.
At Medallion Retail, we're no strangers to return-worthy creations. Reach out to Michael Decker or Chris Gordon today to start brainstorming innovative ideas at engage@meetmrpopup.com.
Ready to connect to your customers in a more meaningful way?
CONTACT OUR TEAM