Strategy, Creativity, Signage, Permanent, Temporary, Corrugated Display, In-Store Signage, Retail Trends, In-Store Marketing, Consumer Behaviors
Shopping Mall Adaptive Reuse: The Phoenix Will Rise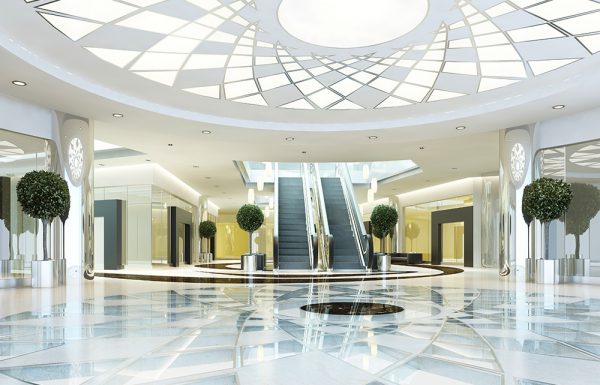 Imagine driving to an arboretum, walking through a botanical garden and observing the slow movements of students in a Tai Chi class. You walk past a farmers market and make a mental note to pick up some locally grown peaches on your return. Your short walk brings you to a building, and after a quick elevator ride you emerge into the calm of a beautiful waiting room space and check in for your doctor's appointment. Afterward, an escalator to the first floor brings you to a lab where your annual bloodwork is done. Once the technician completes the procedure, you head toward a wide doorway that used to welcome shoppers to a Macy's fragrance department. But as you exit now, the new view of the mall—a convenient oasis of health and wellness providers, services and brands—stretches before you.
The adaptive reuse transformation of a shopping mall into a health and wellness utopia might seem jarring.
The Faltering Mall
Consider the unfortunate prediction that one-third of America's malls will shut permanently by 2021, according to retail consultant Jan Kniffen, a weekly CNBC contributor and former senior executive at The May Department Stores. As the sector has been struggling for some time, he originally expected these closures wouldn't occur until 2030, but has since changed his forecast after the pandemic accelerated the brand migration to ecommerce. He also said malls that do survive should brace for closures of at least 20% of their stores.
Traditional malls—those comprised almost entirely of apparel and accessories retailers—were already viewed by investors as vulnerable to economic disruption and less of a solid investment than a mixed-use facility. A recent study by Friedman LLP found that 75% of mall owners are considering a repurposing project in the foreseeable future.
Another stake in the heart of mall culture is the prediction that more than 50% of the department stores anchoring America's malls will close permanently by the end of next year, according to a report from Green Street Advisors. "The only certainty is that there will be far fewer department stores in the future and malls will need to adapt," Green Street's Vince Tibone, analyst, told CNBC. Just last week, The New York Times reported that mall owners have already spent billions repositioning themselves for a future devoid of department stores, a future only hastened by the pandemic. Massive, strategic redevelopment efforts add up to a crucial bid to stay relevant as shifts in retailing practices and consumer tastes have left the traditional shopping mall model vulnerable.
The Precedent for Mall Redesign and Transformation
Malls are coveted spaces for adaptive reuse because they are typically located near highways and public transportation facilities. The case for successful transformation of the traditional retail mall has been established over the past several years as centers nationwide have been remodeled with the addition of apartments, hotels, gyms, medical facilities and big-box stores. Brookfield Properties is currently spending $149 million to redevelop the Stonestown Galleria near San Francisco State University with the addition of a Whole Foods, a health care provider and a Sports Basement sporting goods store. The existing Target will be expanded and the stand-alone Regal Cinemas will be relocated to inside the mall.
A few malls have gained entertainment venues and become experiential destinations. Some malls, like the Westside Pavilion in Los Angeles and the Highland Mall in Austin, Texas have been purchased and completely rehabilitated for alternative uses. Westside Pavilion was purchased by Google and is being turned into a 584,000-square-foot complex that is projected to be finished in 2022. Austin Community College purchased Highland Mall in 2012 to create a new campus, and continued expanding and adding to their development after the closure of the mall in 2015.
Mall owners looking to change up their tenant mix would do well to think wellness. The concept has been adopted sporadically here in the U.S., but it's actively working in Asia. SM Supermalls builds centers with wellness zones incorporated at the planning stage. Its SM Mall of Asia in Manila, one of the largest in the Philippines, includes dental, chiropractic, vision care and The Medical City Clinic—which offers everything from prenatal care to X-rays to physical therapy. The mall also has a hypermarket, as well as many services for massage, skin care, fitness and grooming.
A report from Colliers International, a global commercial real estate and investment management company, titled "The Fountain of Wellness in Retail" found that wellness would drive foot traffic and spending as consumers access services and continue their shopping experience. Colliers cited a survey by GlobalData that found if malls offered more wellness services such as gyms, doctors, clinics, spas, etc., 75% of shoppers would visit the mall more. Another 72% say they would spend more money at the mall and 61% say they would visit restaurants in the mall more.
To be successful, adaptive mall reuse plans require research into the regional demographics and economy, of course. What can the area support? What businesses or services are lacking? What is the financial profile of the surrounding demographic? Back in 2019, we wrote about how pop-up could improve the viability of the American shopping mall. Today we feel compelled to offer a more all-encompassing vision.
Holistic Health for the Body and Mind
Medallion Retail is located in the Flatiron District neighborhood of New York City, an area filled with quirky boutique fitness studios and innovative, holistic medical facilities. The broad view is that post-COVID, health and wellness will no longer be seen as a luxury, but as a necessity. Pondering our own neighborhood got us thinking: Can the traditional American shopping mall be transformed into a multifaceted, holistic destination for large-scale community health and wellness?
What we're picturing is large-scale transformation. And when we say "multifaceted, holistic destination," we mean a place for all health and wellness needs. We envision the large, anchor store spaces as prime areas for established medical organizations. For example, a space that was a Neiman Marcus department store could become a location for digital imaging and outpatient services such as dialysis, mammography, colonoscopy, CAT scans and MRIs. Adjacent to these spaces could be other traditional doctors, such as general practitioners, dermatologists and podiatrists.
We then envision complimenting these standard practitioners and services with providers of supportive care: sports medicine practitioners, physical and physiotherapists, nutritionists and massage therapists. Mental health would be addressed as well: psychiatry, psychology, social workers and group therapists could occupy smaller vacated retail spaces. We picture areas within mall hallways becoming open waiting rooms with virtual check-ins and appointment notifications.
A holistic approach to health and wellness would also include practitioners and services for Eastern medicine, Ayurveda (holistic medicine that promotes balance between body and mind) and alternative methods of healing. These practices would blend into a rich variety of retail sources for products such as essential oils, vegan merchandise, organic and sustainable personal care brands, and homeopathic remedies. Also, depending on the state, such a center could be ideal for a medical marijuana dispensary.
Beyond Medicine and Into Prevention
Our center for health and wellness would exceed medical treatments by including preventative activities. Mall owners might think about adding an indoor track and pool; a rock climbing facility; tennis courts; a gym; yoga, dance and barre studios; and spaces for martial arts. Having such a variety of activities in one centralized location would also create a need for activewear and footwear retailers, as well as specialty shops, such as a dancewear store.
Healthy dining spots that include vegan and vegetarian options in addition to traditional restaurants would round out the experience. Eateries could offer outdoor service to capitalize on the lush environment provided by newly installed gardens. The food court could be a compendium of quick alternatives to junk food, like shakes and smoothies, salads, coffee drinks and wholesome snacks. And a large portion of space would be reserved for a premium supermarket. This would hold special appeal for those who would like to go to the gym or attend a dance class and come home with the weekly groceries in the same trip. The supermarket could be adjacent to spaces that host classes in nutritional cooking for all ages.
Some contemporary mall redesigns have already transformed portions of their parking lots into amenities like walking paths and spaces for events like concerts or outdoor movies. Another healthy addition would be a multi-day farmers market. This idea is already being put into play in places like The Mall at Greece Ridge in Rochester, New York, where a market runs every Thursday and Saturday from June through October. Shoppers can pick up local produce, flowers, pasta, cheese and more.
Change for Good
The dire predictions that have been made about the great American shopping mall, which no one wants to dwell upon, have spurred us into dreaming of new uses for these immense spaces. Forward thinking and planning can convert today's malls into community resources that make health and wellness more centralized, attainable, convenient and fun.
Any large space that's walked and utilized by so many customers searching for a wide variety of businesses and services will need wayfinding and environmental signage, store layout and design, store signage and display, and fixturing design. Medallion Retail's design, manufacturing and production teams can help U.S. mall owners adapt and recreate their spaces, shaping and informing the customer journey from entrance to exit by creating a space that's refreshingly easy to navigate.
For more information, contact Chris Gordon at 212-929-9130.
Ready to connect to your customers in a more meaningful way?
CONTACT OUR TEAM