Strategy, Creativity, Permanent, Temporary, Corrugated Display, Brand Positioning, Pop-up Retail, Retail Marketing, In-Store Marketing, Brand Partnerships, Consumer Behaviors
Home Fitness Finds New Purpose for Pop-Up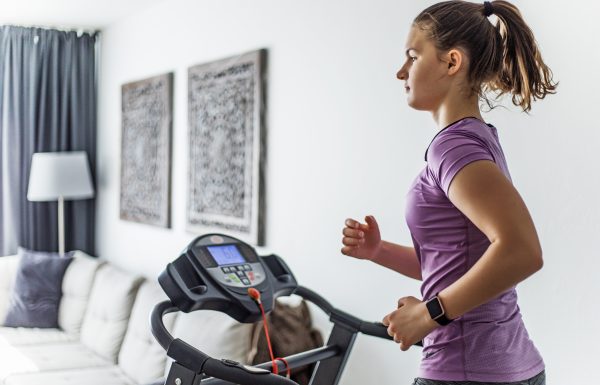 When the coronavirus forced nonessential businesses to shut down in March, gyms and fitness centers were among the retail casualties. And it was kind of remarkable how quickly consumers adapted to a Netflix-and-swill lifestyle. But the warmer weather has meant bringing out the lighter clothes—and for many Americans, the daily guessing game over which clothes still fit. 
Considering the tenacity of COVID-19, gym-goers may continue to be thwarted for some time as, unfortunately, gyms have yet to reopen in many parts of the country or are closing again due to the virus's surge. Even before the coronavirus hit, a study by Fit Rated, a fitness equipment and service evaluation company, found the average gym treadmill, exercise bike and free weight are loaded with all kinds of illness- or infection-inducing germs. Shockingly, it determined free weights have 362 times more bacteria than a toilet seat. That stat alone could keep untold numbers of people from returning to a gym. It's little wonder, then, that some workout enthusiasts may no longer feel comfortable using equipment or taking classes in well-populated gyms during our "current situation."
But germy equipment isn't the only problem. Appropriate distancing and airflow will likely be issues, says Bert Blocken, a professor of civil engineering at Eindhoven University of Technology in the Netherlands and KU Leuven in Belgium. Dr. Blocken predicts the many aspirated droplets released by heavy-breathing exercisers will linger unless the gym has a filtered, fresh air replacement system that is constantly circulating.
Of course, there are also those whose health is compromised—including people with asthma, diabetes, autoimmune disorders or those receiving chemotherapy—who might prefer to avoid such spaces, at least until the pandemic can be controlled with a vaccine or a treatment.
Consumers Still Want to Work Out
But that doesn't mean consumers don't want to work out—and they've figured out how—as home fitness equipment sales skyrocketed 170% in the last few months. Also, consider that Lululemon is buying the home fitness company Mirror for $500 million, "a deal that aims to capitalize on pandemic-fueled upheaval in the fitness and retail industries," according to the Wall Street Journal. The $1,500 Mirror has a built-in camera and speakers so buyers can participate in live fitness classes at home.
Mirror isn't the only company that has benefitted recently. Stock for Peloton, the at-home stationary bike and treadmill company, jumped 80% YTD in June. And Cubii, the compact elliptical device for under-desk or couch use, sold its 500,000th unit not long ago and saw sales increase 100% month-over-month from March to April.
Clearly, home fitness is having a moment.
Pop-Up! for Customer Engagement
As strange as these times are, they present an opportunity for home fitness brands. Those looking to truly connect with the consumer and increase their brand's awareness should explore the benefits of meeting their public outside in the relative safety of an open-air showroom. Since open-air venues are viewed by the medical community as safer than interior spaces, brands should embrace the idea of creating an outdoor pop-up for customer engagement.
The Great Outdoor Pop-Up
We love this outdoor space that the Minneapolis ad agency Solve created to recruit summer interns. Solve designed a mobile, outdoor version of its office and moved it from college campus to college campus. The "rooms" were used to quickly screen potential interns, and top candidates were invited to an immediate, on-site interview. This type of open, multi-use space could easily be adapted for home fitness brands, with the different areas allowing for display, equipment trials and instruction, and purchasing areas.
A plein air pop-up would allow home fitness brands to show their product in a safe, controlled environment that would permit shoppers to view the product up close, try it out if they'd like and take home brochures with further information. The customer could also observe the equipment being sanitized in between trial and demonstration sessions, and engage in a one-on-one conversation with the brand rep.
Those in the home fitness industry might think about forming a strategic partnership with a health and wellness brand for mutual benefit. Collaborations could be struck with companies that make supplements, healthy prepared meals or workout clothes. Such a retail partnership gives added exposure to all the players involved, and it's a great way to share the costs involved in creating the pop-up.
Brands could set up in public spaces like a park or near a farmer's market—there are 8,771 markets listed in the USDA's National Farmers Market Directory—where visitors are already expressing interest in healthy pursuits. They could also consider staging their pop-up outside larger grocery stores or wholesale clubs. (We wrote about partnering with both Big Box and Farmer's Markets last year).
The Store-Within-a-Store Pop-Up Option
Larger grocery stores and wholesale clubs, as essential businesses, have remained open over the past few months and have learned how to manage healthy environments while retaining foot traffic. Here, an exercise equipment brand could install a pop-up or temporary boutique that features demonstrations, product information and promotional giveaways.
This clean, modern space created by Ministry of Supply for its Santa Monica pop-up has just the right look for a fitness installation. The glass and metal-trimmed walls lend a protected yet open feel. And wall heights could be varied to separate spaces or increase airflow.
Captivating Signage & Display
Print and signage that's paired with QR codes is a cost-effective way to deepen the experience and understanding imparted to a potential customer in a pop-up space. Dynamic QR, in particular, is a powerful and effective way of using print to direct a prospective customer's focus to almost any type of digital information, with an emphasis on the various types of product options.
As anxiety-provoking as our current, unstable situation is, home fitness brands can use this time to connect with customers through fun, experiential marketing that's packaged in a reassuring pop-up setting. Let Medallion Retail work with you on designing and creating a unique pop-up shop that captivates your shopper, boosts sales and proves to be an excellent investment strategy.
Ready to connect to your customers in a more meaningful way?
CONTACT OUR TEAM