Strategy, Creativity, Social Media Integration, Retail Trends, Retail Marketing, In-Store Marketing
Retail Trends 2017 — Part 2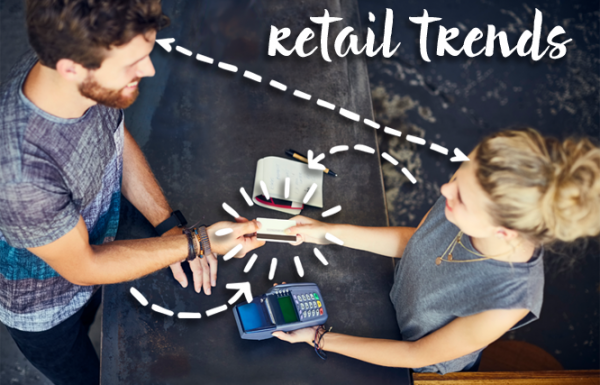 Retail Marketing Trends 2017 – A Q2 Check-in
Here we are at the midpoint of 2017, and one is still able to visit a physical retail store.
Not a huge deal in and of itself, but to have heard retail naysayers talk over the past several months, terrestrial retail should be dead by now. And that is simply not the case as we look towards the second half of the year.
The state of the retail business—indeed, the meaning of the word "retail" itself—has been in a state of flux for the last few years. New technology and heightened shopper expectations have forced a major evolution in the business of retail.
Shopping has become more about the interaction than the transaction. An authentic connection is more meaningful than any markdown. Today, it's about the heart of the deal; emotions trump promotions. The retail experience has been elevated to the Shopper Moment—intimate, personalized, on-demand and wrought with feeling.
It's not the death knell for retail that we're hearing. It is a wake-up call. A friendly alarm. A "last chance for boarding" chime. This new, unsettled retail environment presents myriad challenges, requiring retailers to rethink everything from marketing to distribution, and from staffing to infrastructure. It's a brave new world for retailing.
And participation is not optional.
The stakes are high. Those retailers that choose to wait it out and cling to the status quo may not be long for this world. The industry has changed drastically; that change will not only continue, but accelerate. It's best to consider the upheaval an opportunity. Embrace it. Whole heartedly and quickly.
Now, and moving forward, the most critical qualities a retail brand must activate are the ability to anticipate, the agility to move quickly, the courage to take creative risks and the bravado to be heard over the din of the competition.
In our January 2017 trends forecast, we spoke of the establishment of the "shopper first" mentality. The now-empowered shopper is calling the shots, demanding a meaningful and satisfying experience regardless of where, when and how she encounters the brand. "A seamless customer journey comes under the influence of social media, mobility, geolocalization and the fact of being constantly connected, and provides a frictionless experience that will harmonize the customer journey, whatever the point of contact is between him and the brand/retailer," said Laurent Simonin, CEO of Smart Traffik, in a recent interview with Retail Customer Experience.
We predicted that virtual reality would "get real," and indeed, we are seeing a more "humanized" approach to VR and AI. Spirits company Rémy Martin rolled out an augmented reality campaign called "Rooted in Exception" that allowed shoppers to approach a 3D table upon which elements of Grande Champagne Cognac  and Petite Champagne Cognac were projected.
We also shared our enthusiasm for live feeds and their ability to tighten that connection between in-store and online. Recently, Kohl's teamed with Tone It Up to host a live workout as part of their #GetActiveWithKohls campaign.
We spoke very highly of pop-up retail in our January report as well, considering it the ultimate test of a retail brand's creativity, boldness and ingenuity. Build-A-Bear Workshop will break new pop-up ground this summer, with unexpected experiences in a variety of locations, including AMC Theatres, Carnival Cruise Line ships, Gaylord Hotels and Beaches Resorts.
So what retail trends are emerging as we move into the second half of 2017?
Conversational Commerce
The Amazon Echo launched a new channel of interaction for shoppers—the voice channel. According to Mintel's study on key consumer trends, the seamlessly synced relationship between humans and intelligent computers will solidify as voice-control technology improves. In the near future, sympathizing computers will reach the next level of utility by working together to fully know when and how to act—and then nimbly taking control.
Amazon entered the at-home voice command arena first, but Google is also in the mix with Google Home. (At this writing, we're waiting to see exactly what the Apple HomePod will offer.) Although not fully formed, voice technology is anticipated to grow as the next retail channel.
Small-Town Neighborliness
Currently, small shops are a huge thing. And the big-box brands are taking note. Target is looking at smaller store formats, having recently opened a location near the University of Minnesota campus, a store only 15% of the average Target footprint.
Retailers large and small are going for intimacy, playing to the shopper's desire for a personal touch, excellent customer service and local community involvement. By understanding and embracing the local context rather than imposing a generic brand standard on a local population, retail brands are communicating that they are not invading, but rather becoming locals to serve the locals.
Expiring Social Content
Here-today-gone-tomorrow content offers retail brands a way to cut through the noise and clutter, and gaining the attention of their target audiences without spending massive amounts of capital.
The pioneer of the expiring content movement was Snap. The platform simply gave customers a limited time to read or view content before it disappeared. Instagram followed with a very similar offering. And now both platforms stand among the top ten in the country.
The sense of urgency these platforms create serves as powerful shopper motivation. "Limited time only" still resonates with shoppers; in real time and in-store is a strong combination. Expiring content also implies exclusivity, further connecting the shopper to the brand.
Showcase Social Causes
More than 9 in 10 millennials would switch brands to one associated with a cause, according to the 2015 Cone Communications/Ebiquity Global CSR study. Members of this important demographic group are also willing to pay more for products from companies that are committed to issues they care about.
Doing cause marketing well requires a bit of art and a bit of science. Some efforts fail for having no apparent relationship with the cause itself, poor implementation or just overall lack of authenticity. But increasingly, marketers are seeing that when a campaign is planned, well executed and nurtured, it does more than build social consciousness; it makes money.
The retail industry stands at the midpoint, with empathy and emotion on one end, AI-driven bots and social on the other. At first glance, it may seem that these represent two very different ends of a spectrum. When you look closer, however, it becomes clear that both serve a common purpose: to improve the shopper's experience. Give her the tools to do more for herself, and then support them with genuine, empathetic human interaction.
Ready to connect to your customers in a more meaningful way?
CONTACT OUR TEAM